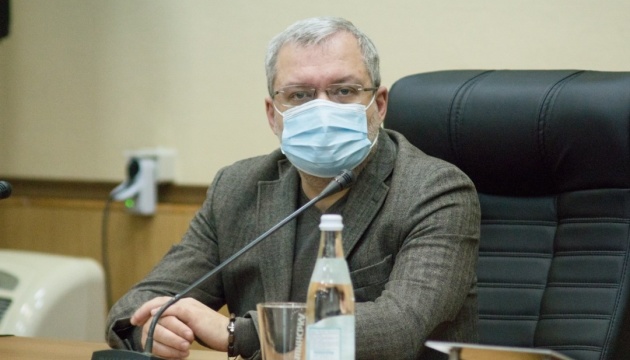 Energy minister talks plans to disconnect from Russia, Belarus power grids
Ukraine has secured the European Commission's support for its efforts to synchronize its national power system with the European Union's ENTSOE and is moving steadily toward completing the process in 2023.
Minister of Energy of Ukraine, Herman Galushchenko, addressed the issue in Brussels, speaking with journalists following the talks with European partners on Thursday, January 20, an Ukrinform correspondent reports.
"Technical issues are being settled now. There is absolute support for Ukraine, for our plan to synchronize with European power networks and finally cut ourselves off the power networks of the Russian Federation and Belarus…. We see a 2023 deadline in our plan," said the Ukrainian minister.
He noted that Ukraine had already invested more than EUR 600 million in modernizing its own grids in order to synchronize them with the EU system.
"We are now at the final stages. This year we plan to go through the so-called isolated regime twice. It should be in winter and summer. After that, we'll approach the time when we are ready, that we've shown the stability of the power system and its readiness to connect with European power networks," Galushchenko said.
Answering a clarifying question, he stressed that Ukraine currently has sufficient amounts of coal to undergo "isolated regime" tests, which usually last up to five days.
"Our calculations allow for some room. The maximum reserve required in warehouses for this period is about a million tonnes of coal. Today we have in our warehouses about 800,000 (tonnes - ed.), and another 220,000 – in a Ukrainian port, where coal has already been unloaded. That is, everything will be fine with coal. Moreover, there will be a safety cushion for April and May. We see how rhythmic the supply is as we control the volumes and contracts," said the energy minister.
He noted that in terms of synchronization of Ukraine's power systems with European ones, the Ukrainian side is focusing on 2023, although "there are other ambitious opinions" in this regard.
As reported earlier, Ukraine is taking steps to synchronize its unified power system with the European ENTSO-E. The process is scheduled to be completed in 2023.
im