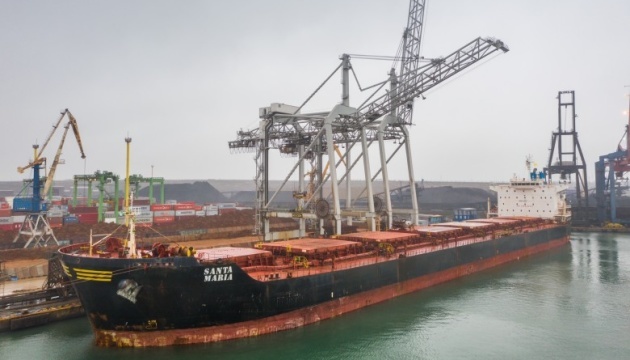 Two more ships carrying coal arrive in Ukraine from U.S., Columbia
Two Panamax ships have delivered a total of 131,000 tonnes of coal to Ukraine from the United States and Colombia.
That's according to the DTEK energy company, Ukrinform reports.
DTEK Energo is meeting two Panamax-class vessels carrying imported coal. The first ship with 55,000 tonnes of coal on board, originally from Colombia, docked at the TIS port today (December 16 - ed.), at 13:30. The second one, carrying 76,000 tonnes of fuel from the United States, will be moored at the Pivdennyi port at night. New batches of fuel will soon replenish stocks in the warehouses of the company's TPPs (thermal power stations - ed.)," the statement reads.
The company recalled that DTEK Energo had signed agreements on importing to Ukraine eight batches of coal from the United States and Colombia with a total volume of almost 545,000 tonnes. The first vessel, contracted by the company for the needs of state-owned TPPs run by Ukrenergo, arrived in Ukraine on November 20 and the other one – for DTEK Energo's TPPs – on December 5.
It is also noted that the company has contracted more than 1 million tonnes of imported fuel to ensure a stable heating season. In November, DTEK Energo mined almost 1.5 million tonnes of G-grade coal.
As reported earlier, Prime Minister Denys Shmyhal denied reports about the alleged introduction of "rolling blackouts" in Ukraine. According to the head of the Ukrainian government, the Ukrainian power system will get through the period of severe frosts in a stable manner, although certain issues exist, including low coal reserves in the warehouses of coal-fired thermal power plants.
Photo: energo.dtek.com
im