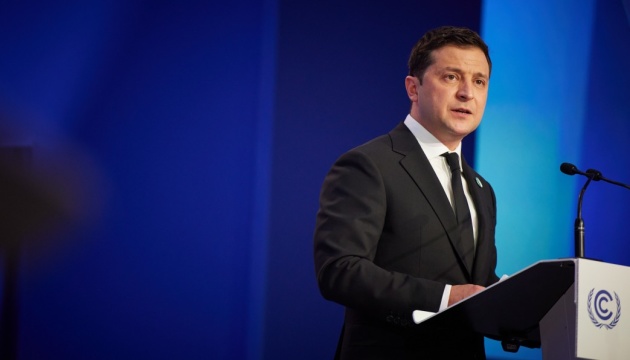 Zelensky says Ukraine intends to cut greenhouse gas emissions by 65% ​​by 2030
Ukraine's goal is to reduce greenhouse gas emissions by 65% ​​by 2030 and to achieve climate neutrality by 2060.
That's according to President Volodymyr Zelensky who spoke at the COP26 climate summit in Glasgow, an Ukrinform correspondent reports.
"Ukraine has ratified the Paris Agreement as one of the first countries in Europe. In terms of emission reductions, it ranks 4th among the 45 parties to the UN Framework Convention. Our goal by 2030 is to reduce greenhouse gas emissions by 65% and to achieve climate neutrality not later than 2060," Zelensky said.
He noted that Ukraine supports a number of initiatives of the conference taking place in Glasgow.
That's including "the Declaration on Forest and Land Use. It is also important for our country to have access to stable and long-term financing, in particular in the framework of the Green Climate Fund," the head of state added.
As reported earlier, the COP 26 climate conference under the auspices of the United Nations kicked off in Glasgow on October 31 and will last until November 12.
The Glasgow summit is being held a year late due to a coronavirus pandemic. Six years ago in Paris, nearly 200 countries agreed on individual plans to combat global warming. Under the Paris Pact, countries shall review their previous commitments to reduce carbon emissions every five years and then announce plans for even greater and faster reductions.
Photo: Office of the President of Ukraine
im