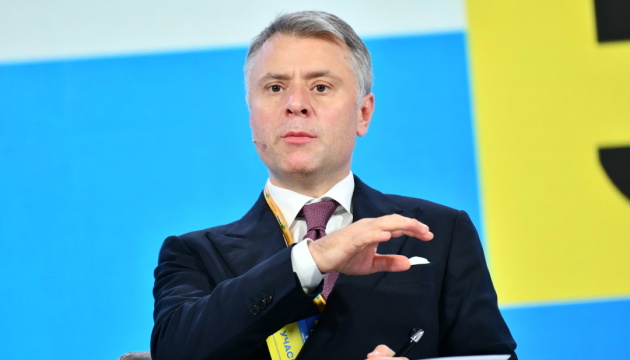 Gas shortage in Europe can be tackled if Gazprom allows buying gas at Russia-Ukraine border - Vitrenko
Gas shortages in Europe can be avoided if Gazprom allows European companies to buy natural gas at receipt points located on the Russia-Ukraine border.
That's according to Chairman of the board of Naftogaz of Ukraine, Yuriy Vitrenko, Ukrinform reports referring to his Facebook post.
"To this end (to tackle the gas shortage in Europe – ed.) Gazprom on its electronic platform should now start offering its European counterparts gas supplies with a receipt point at the Russia-Ukraine border (the Sudzha gas measuring station). Gazprom's European counterparts would thus be able to book transit through Ukraine themselves. There are definitely no issues with this on our side as we have everything open and accessible," Vitrenko said.
In his opinion, the fact that Gazprom refuses to move the gas receipt point proves the abuse of their dominant position in the European market. The Naftogaz chief has stressed that the Russian monopoly does not play by European rules, and that the Kremlin continues to use gas as a geopolitical weapon against Europe and Ukraine.
"To those who believe in the Kremlin and succumb to blackmail that it's with the launch of Nord Stream 2 that Europe will see more gas and, consequently, lower prices: Gazprom after the launch of Nord Stream 2 may switch the volumes that now flow through Ukraine to Nord Stream 2. And therefore there'll be no additional volumes of gas, it's only the route that will change," Vitrenko noted.
He also welcomed the decision by the German regulator to allow Poland's PGNiG to process the certification application filed by the Nord Stream 2 operator.
As reported, Poland's oil and gas company PGNiG has gained the right to participate in the certification of the Nord Stream 2 gas pipeline.
On September 10, Russian gas monopoly Gazprom announced the completion of the Nord Stream 2 gas pipe laid from Russia to Germany along the bottom of the Baltic Sea, thus bypassing Ukraine. Gazprom is the project's sole shareholder.
At the same time, throughout September, gas prices in the EU energy markets were rising steadily, almost reaching the psychological mark of $1,000 per 1,000 cubic meters. This price jump occurred on the eve of certification of the Nord Stream 2 gas pipeline and against the background of Gazprom's refusal to transmit additional volumes to the European Union. As a result, gas reserves in European gas storage facilities currently stand below 71% of what's required to safely pass the winter period, while in previous years by this date the stocks had reached about 96%.