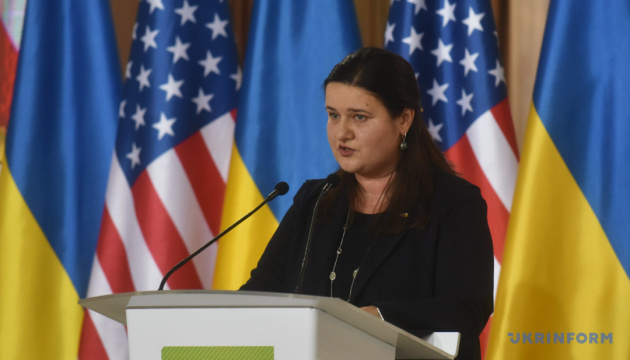 Markarova: Ukraine is open to foreign business despite Russia's aggression
Despite the need to protect its borders from Russian aggression, Ukraine is fully open to foreign business and investors whose infusions are very important for the implementation of key reforms and the development of the Ukrainian economy.
"Despite the fact that our brave military continue to fight on the front line every day, Ukraine is open to business," Ambassador of Ukraine to the United States Oksana Markarova said during an online conference organized by the U.S.-Ukraine Business Council on Thursday, an Ukrinform correspondent reported.
She noted that during the years of Russian aggression, much of Ukraine's efforts had been aimed at regaining control over the occupied territories in the east, as well as Crimea. At the same time, the implementation of reforms in key areas remains no less important, and this is an important component for increasing the confidence of foreign business and attracting investment into the Ukrainian economy.
"The more Ukrainian, international and especially American companies – which would be my main goal – open production facilities or service companies in Ukraine, the sooner we will manage to implement the reforms we need to complete," said the Ambassador of Ukraine to the United States.
In this regard, Markarova stressed that the Ukrainian side was open to international investors.
"We provide 24/7 access, we are ready to hold discussions to hear American investors," the Ambassador said.
She noted that the Embassy worked directly with relevant offices in Ukraine focused on supporting investment and business activity.
As reported, in March this year, the President of Ukraine instructed the Cabinet of Ministers to take measures to establish the National Investment Fund. The new agency is focused on creating conditions for large-scale investment projects, developing international economic cooperation, boosting the competitiveness of the Ukrainian economy.
ol