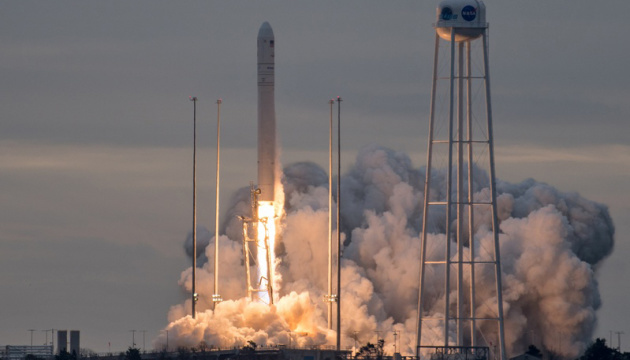 Ukrainian-American rocket Antares launches cargo load to ISS
The two-stage Antares rocket, developed with the participation of the Ukrainian side, has successfully launched the Cygnus cargo spacecraft into orbit, the State Space Agency of Ukraine reported on Facebook on February 20.
"Today [on February 20], at 19:36 Kyiv time, the Antares rocket was successfully launched from Wallops Island (the United States)," the report reads.
According to the report, the two-stage Antares rocket was developed by American company Northrop Grumman with a third optional stage, and today it is Cygnus.
The main design of the first stage of the rocket was developed by the Yuzhnoye Design Office and manufactured by Yuzhny Machine-Building Plant (Yuzhmash).
Acting Head of the State Space Agency of Ukraine Mykhailo Lev congratulated the specialists of the Yuzhnoye Design Office, Yuzhmash and Hartron-Arkos on the successful launch of the rocket.
"The successful launch of the Antares rocket has once again shown the high efficiency of cooperation between the domestic space enterprises Yuzhnoye Design Office, Yuzhny Machine-Building Plant, Hartron-Arkos, Kyivprylad, Hartron-Yukom, Chezara, RAPID, and others. The high class of our specialists helps provide real-time technical support for the launch, receiving and processing telemetric information, without any hindrances, from the territory of the Yuzhnoye Design Office," he said.
Lev also expressed the hope that cooperation between Ukrainian enterprises would soon help produce a wholly domestic product - a medium-class launch vehicle, which will be the flagship of the Ukrainian rocket industry for the coming years.
According to NASA, the Cygnus spacecraft docking to the ISS is scheduled for February 22.
op