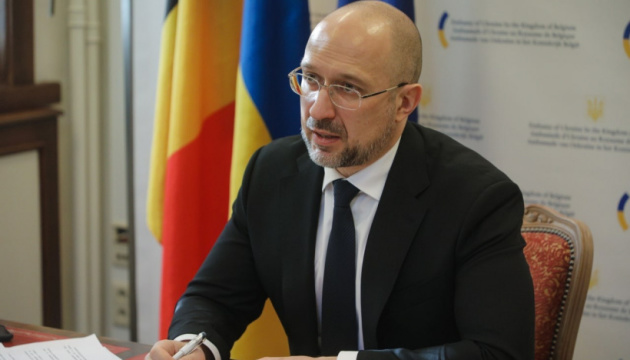 Ukraine passed through economic crisis with minimum losses – Shmyhal
Ukraine has passed through the economic crisis with minimum losses compared to other European countries, Ukrainian Prime Minister Denys Shmyhal has said.
He said this during an online meeting with Director General of the Confederation of European Business Markus Beyrer and representatives of European companies during his working visit to Brussels on February 10, according to the Ukrainian government's website.
Shmyhal noted that according to investment companies, Ukraine's economy returned to pre-crisis levels at the end of last year.
"Figures from the European Business Association also indicate that Ukraine has passed through the economic crisis with minimum losses compared to other European countries. We lost only 4.5% of GDP. This year, according to forecasts, Ukraine's economy will grow by over 4.6%," he said.
Shmyhal stressed that Ukraine's main strategy was to attract business investment. To this end, the Ukrainian government, together with MPs, experts and analysts, is working to develop a national economic strategy until 2030.
"To date, we have determined key priorities for the strategy. Among those are European and Euro-Atlantic integration, rule of law, protection of private property, gender equality and absolute intolerance of corruption. Economic freedom - fair competition, equal conditions for businesses and free movement of capital. Institutional capacity," Shmyhal said.
He also briefed representatives of European companies on five key areas of the national economic strategy until 2030, which are critical for business and investors.
"The first is the rule of law. We are actively working with the IMF, European institutions on the implementation of updated legislation in the judiciary. Such draft laws have been prepared and will be adopted by Ukraine's parliament this year. The second is investment attractiveness. We are adopting amendments to the law on investment parks. We have approved legislation that introduces investor support at the state level," he said.
Shmyhal said the "green course" was the third key area. According to him, renewable energy sources, modern technologies in production, energy efficiency and energy saving are the areas that will be a cross-cutting issue in the economic development strategy. The fourth vector is the development of small and medium enterprises, and the fifth area is digitalization.
"The Diia project works effectively in this [digitalization] area. More than 60 public services are already provided online, the world's first digital passports and digital driver's licenses have been introduced. We also have the first experience of urgent payment of financial assistance to people and enterprises within three weeks. The tool has attracted the interest of many international organizations that are asking us to share this experience," he said.
Shmyhal noted that the strategy of economic development of Ukraine would also focus on expanding domestic demand for industrial products, developing the agricultural sector, introducing public-private partnership, and processing agricultural raw materials.
op