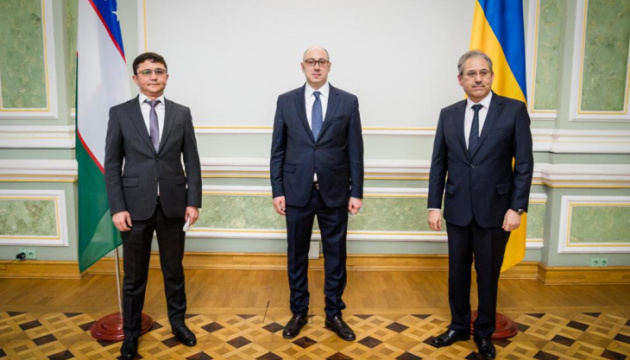 Foreign Ministry working to increase trade between Ukraine and Uzbekistan
The Ministry of Foreign Affairs of Ukraine hosted negotiations between Uzbek Republican Commodity Exchange (UzEX) delegation and Ukrainian agricultural producers of sugar, sunflower oil, flour, grain, meat and other goods in order to discuss supplies to the Republic of Uzbekistan.
Deputy Foreign Minister of Ukraine Dmytro Senik took part in the meeting organized within the Council of Exporters and Investors under the Ukrainian Foreign Ministry, according to the ministry's press service.
Among the participants were representatives of Ukrainian business associations (Ukrtsukor, Ukrainian Grain Association, Millers of Ukraine Public Association) and separate companies. During the meeting, Ukrainian exporters, in particular representatives of Chumak, Premier FOOD, Pan Indyk and others, presented their opportunities to enter the Uzbek market.
"In the context of COVID-19 pandemic, the Ukrainian Foreign Ministry has significantly intensified its economic efforts to support Ukrainian business. Even though economy has always been on our agenda, today the ministry is reviewing its work in the field of economic diplomacy, including regulatory framework, processes and approaches. These are the priorities set by the President of Ukraine and formulated by Minister Dmytro Kuleba in the form of clear instructions for our foreign diplomatic missions," Senik stressed.
The participants of the meeting discussed their prospects of cooperation and urgent issues in trade and economic relations, particularly, logistics. According to Ukrainian business representatives, if Uzbekistan reduces costs within the logistics chain, supplies of Ukrainian products will increase significantly.
"Trade and economic cooperation is the most important element in Ukrainian-Uzbek relations. I want to emphasize that Ukraine considers Uzbekistan one of the economic leaders in the Central Asian region with a market of 34 million. We are interested in holding similar meetings with representatives of chemical industry, metallurgy, manufacturers of construction materials and other industries in the future," the diplomat noted.
During the visit to Ukraine, the Uzbek delegation will visit several Ukrainian enterprises and hold bilateral meetings with Ukrainian business representatives.
As a reminder, for eight months of 2020, the volume of trade in goods between Ukraine and Uzbekistan amounted to USD 249 million and increased by 28.2% compared to the same period of 2019. At the same time, exports of goods from Ukraine to Uzbekistan amounted to USD 172.2 million and increased by 27%. Imports of Uzbek goods to Ukraine totaled USD 76.7 million and increased by 1.2%. The positive balance for Ukraine during this period amounted to USD 95.4 million.