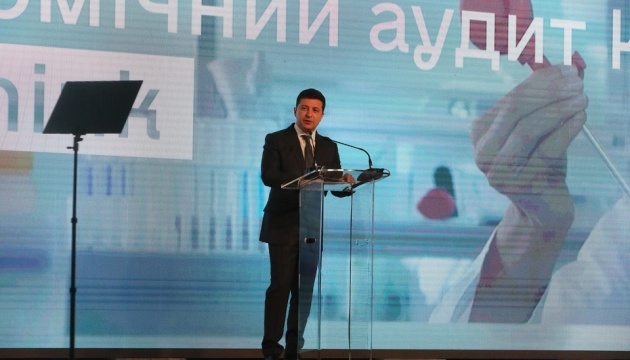 Zelensky waiting for 'economic Constitution of Ukraine'
The results of an audit of the Ukrainian economy and the vectors of economic development drafted by the government should become the basis for the creation of Ukraine's National Economic Strategy until 2030, President Volodymyr Zelensky has said.
He said this in his speech at the presentation of the country's economic audit in Kyiv on Friday, November 6, according to an Ukrinform correspondent.
"Based on the audit and vectors, we are waiting for the appearance of the National Economic Strategy until 2030. I know that the government has already begun to work actively on this, involving many experts, business representatives, the public, international analysts, and scientists," Zelensky said.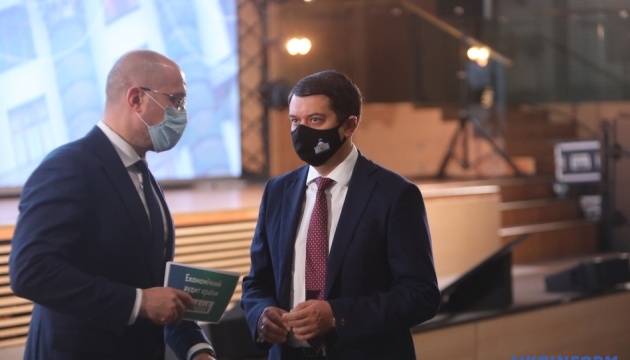 According to him, the strategy should be a master plan and a roadmap for all branches of government in Ukraine, rather than a non-binding declaration.
Zelensky stressed that the strategy should also be widely approved by citizens and be a kind of "economic Constitution of Ukraine, our great national idea."
"It's time to end the practice when public policy is determined by surnames on the doors of government offices, rather than by common values. With every new president, parliament or government, the country begins to invent a new breakthrough. It's time for a new tradition: the surnames of civil servants can and will change, but the vision, philosophy and the global goal of the country are unchanged," he said.
He noted that the audit of the Ukrainian economy is the result of hard and painstaking work. Zelensky recalled that a comprehensive analysis of the state of Ukraine had been made for the first time "to understand exactly what mistakes were made during these years, and where."
"The audit is an analysis of our complexes that frightened us and restrained our movement forward. All of them must be a thing of the past," he added.
He also said that based on the results of the audit, the government would present the main vectors of development of the Ukrainian economy until 2030, which will help clearly understand "where and why Ukraine's economy will move."
Ukrainian Prime Minister Denys Shmyhal said at a meeting of the Cabinet of Ministers on November 4 that Ukraine's economic breakthrough was an ambitious goal for the government. He also said that for the rapid recovery of the Ukrainian economy, the government had developed a vision of the economic development of the country until 2030. Shmyhal stressed that according to the government's forecasts, the Ukrainian economy will begin to recover from 2021 thanks to public investment and business support.
op