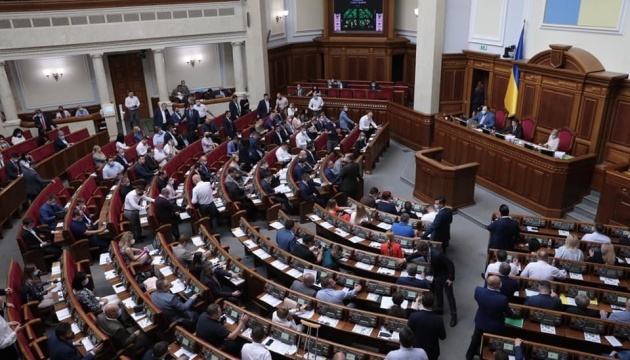 Parliament supports draft state budget for 2021 at first reading
The Verkhovna Rada, Ukraine's parliament, has supported the bill on Ukraine's state budget for 2021 at first reading.
According to an Ukrinform correspondent, 275 MPs voted for the bill, No. 4000, at a parliament meeting on Thursday, November 5.
The document envisages GDP growth at 4.6% and consumer inflation at 7.3%. The level of public debt to GDP is set at 64.6%. The average annual U.S. dollar exchange rate for 2021 is projected at UAH 29.1 per U.S. dollar.
Budget revenues are planned at UAH 1.071 trillion, and expenditures at UAH 1.35 trillion. The budget deficit is projected at UAH 270.4 billion, or 6% of GDP.
The average monthly salary next year should amount to UAH 13,600. The budget for next year also provides for an increase in the minimum wage to UAH 6,000 from January 1 and to UAH 6,500 from July 1.
Security and defense expenditures are set at UAH 267 billion, with UAH 131 billion to be provided for salaries to military and law enforcement officers. Education expenditures are projected at UAH 174 billion, of which UAH 21.2 billion is to be allocated for a surcharge to teachers' salaries.
Expenditures on the health care sector are set at UAH 156 billion, of which doctors' salaries are to be increased by 30%, UAH 123.4 billion is to be spent on the medical guarantees program, and UAH 19.4 billion is to be spent on the fight against coronavirus (including UAH 2.6 billion on vaccination).
Expenditures on social protection of the population are set at UAH 324 billion.
UAH 150 billion is to be allocated for the Big Construction program (development of road infrastructure).
UAH 12 billion is planned for small and medium business support programs, of which UAH 10 billion is planned for the implementation of the portfolio guarantee program and UAH 2 billion for compensation of interest on loans for micro and small businesses.
UAH 9.4 billion is planned for financial support of the regions. Expenditures on culture are expected to amount to UAH 7.5 billion, and those on sports are projected at UAH 7.4 billion.
UAH 4.5 billion is to be allocated to support the coal industry, UAH 4.2 billion to support farmers, and UAH 2.9 billion to digitize the economy.
op