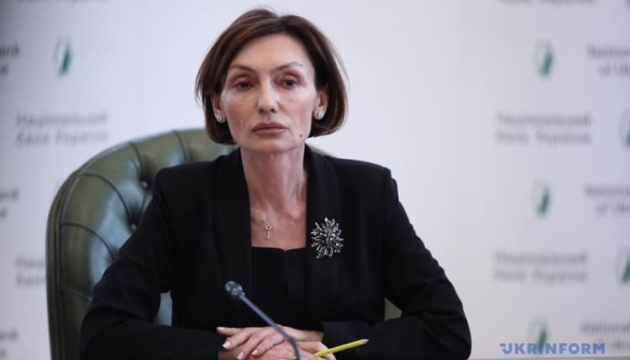 NBU hopes to reach agreement with IMF by year-end - Rozhkova
The National Bank of Ukraine (NBU) hopes to reach a staff-level agreement with the IMF on a new three-year Extended Fund Facility (EFF) for Ukraine by the end of this year.
NBU First Deputy Head Kateryna Rozhkova said this in an exclusive interview with Ukrinform.
"I would not make any forecasts over time so as not to form certain 'super expectations' that are then always very difficult to explain. First of all, we are talking about a three-year program," she said.
According to her, negotiations are currently underway on a major program that is longer in scope and time than the previous one. Therefore, it is important now to discuss all the conditions of the IMF and clearly understand what is behind certain obligations for Ukraine, so that there are no misunderstandings during the implementation, she said.
"We very much hope that this year we will conclude [the talks] and reach a staff-level agreement this year, sign a memorandum, and an IMF team working with us will be able to submit to the IMF Executive Board everything needed for the approval of the program," Rozhkova said.
She noted that the total amount of funding under the program is not discussed at this stage.
"First and foremost, we need to calculate needs. We know that large payments and expenditures related to public debt servicing are planned for the next two years. But this year we see a record inflow of foreign investors into our domestic market, which has brought us foreign exchange earnings," she said.
She emphasized that these parameters, which are necessary for determining the amount under the IMF program, are constantly changing, as well as the monetary component of public debt and indicators of the government's fiscal policy.
"We will reach them [the stated indicators] in the negotiation process because they are not the main ones for us now. It is more important for us to give a signal to all investors that the country is moving in the right direction, that the country will defend its rights, protect its investors," Rozhkova said.
She also noted that unlike the funds of previous IMF programs, which usually replenished Ukraine's international reserves, the new financing of the Fund, together with external investments, would give a direct impetus to economic development.
op