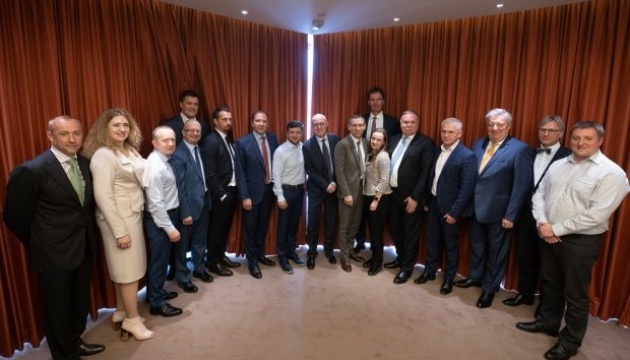 Zelensky, bankers discuss independence of NBU, cooperation with IMF
Ukrainian President-elect Volodymyr Zelensky on May 14 met with the heads of leading foreign banks in Ukraine, as well as representatives of the Independent Association of Ukrainian Banks, Zelensky's press service has told Ukrinform.
"On May 14, newly elected Ukrainian President Volodymyr Zelensky met with the heads of leading foreign banks in Ukraine (FLIFI): Raiffaisen Bank Aval, Pravex Bank - Intesa Sanpaolo, Ukrsibbank - BNP Paribas, Credit Agricole, City Group, SEB, Piraeus, Credit West Bank, ProCredit Bank, Alfa Bank, Deutsche Bank, as well as representatives of the Independent Association of Ukrainian Banks," the report said.
It notes that the meeting was also attended by representatives of the Zelensky team - Aivaras Abromavicius, Oleksandr Danyliuk, Andriy Bohdan, Ivan Bakanov, Victoria Strakhova.
Zelensky said at the meeting that as president he would be the guarantor of every big investor who comes to Ukraine.
"The newly elected head of state also emphasized that he sees as a priority ensuring macroeconomic stability through the independence of the NBU, cooperation with the IMF and well-weighed policy in the sphere of public finance," the press service added.
Zelensky also supported the opinion of the banking community that judicial reform and protection of the rights of investors and creditors are the cornerstone for ensuring economic growth and attracting foreign investment. He also emphasized the need to ensure transparent and equal rules of the game for both private and public banks. In addition, he supported the reform of corporate governance in state-owned banks, which would eliminate political influence on them.
The heads of banks, for their part, assured the newly elected president of Ukraine of their support and willingness to cooperate.
Taras Kyrychenko, the head of the Forum for Leading International Financial Institutions (FLIFI), said that bankers expect from the president the support and unchanged reforms initiated by the NBU, the reform of the judiciary and the search for points of economic growth.
"In the current situation, it is extremely important for banks to lend more to the real economy, so that loans are more affordable for responsible borrowers and households. To do so, it is necessary to fully implement judicial reform and provide maximum protection to investors and creditors of the Ukrainian economy," Kyrychenko said.
In addition, Zelensky expressed hope for a reduction in rates on bank loans for both corporate business and households, which would contribute to economic development.
"Reducing interest rates will serve as a boost to economic growth. Now people are scared and do not trust the banks," he said.
op