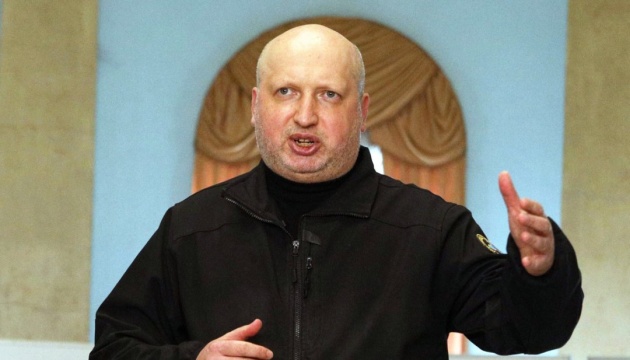 NSDC may impose sanctions against NewsOne, 112 Ukraine owners - Turchynov
Ukraine's National Security and Defense Council (NSDC) will promptly consider the issue of imposing sanctions against the 112 Ukraine and NewsOne TV channels as soon as it gets a respective parliament resolution.
NSDC Secretary Oleksandr Turchynov said this at a joint briefing with Head of the National Security Bureau of Poland Pawel Soloch on Thursday, October 4, according to an Ukrinform correspondent.
"As soon as we get a resolution from parliament, I do not see any problems in considering this issue promptly," Turchynov said.
He also stressed that the Ukrainian parliament, by adopting this resolution, had acted within its powers and added that "information that was discussed today by the Verkhovna Rada and which was the basis of the document shows that Russia's information aggression against Ukraine is a very topical issue."
Turchynov said that sanctions would be imposed against the founders of these two TV channels.
According to him, these TV channels have a complicated hidden system of ownership, but "of course, there are non-residents of Ukraine there, and therefore there are no restrictions on the application of sanctions."
At the same time, he said that the law also provides for the possibility of applying sanctions against Ukrainian individuals. "This is terrorist activity. Promotion of terrorism is an element of terrorist activity," he said.
Turchynov stressed that the decision on these TV channels would be taken "in accordance with the law and the Constitution of Ukraine."
On October 4, the Verkhovna Rada adopted a resolution on the approval of proposals for the application of personal special economic and other restrictive measures (sanctions) against the 112 Ukraine and NewsOne television channels.
The petition to terminate the anti-Ukrainian activities of the 112 Ukraine and NewsOne television channels, which was published on the website of the Verkhovna Rada on September 20, received in nine days the necessary number of votes for its further consideration.
OP