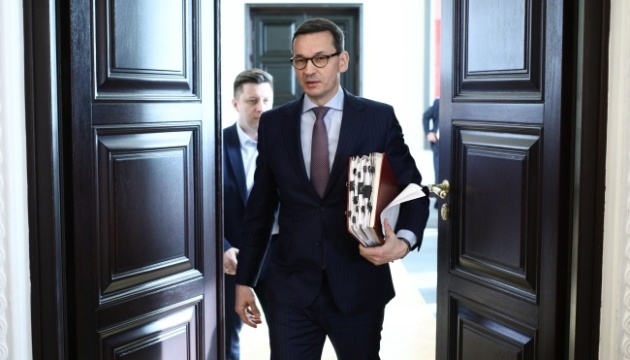 Polish Prime Minister: Nord Stream 2 poses threat to Ukraine and Europe
The Nord Stream 2 gas pipeline is a threat to Ukraine and the whole of Europe, as it promotes monopolization of the market rather than diversification of gas supplies to Europe.
Polish Prime Minister Mateusz Morawiecki said this after a meeting with German Chancellor Angela Merkel in Berlin, an Ukrinform correspondent reported.
"We constantly try to remind that this [Nord Stream 2] is a threat to Ukraine, and accordingly - to the whole of Europe. We also emphasize that de facto this means further monopolization rather than diversification of gas supplies," he said.
He notes that this issue is extremely important and it is constantly raised by the Polish side.
According to him, under the influence of Warsaw, Angela Merkel changed her rhetoric and "entered into a very intensive dialogue with Ukraine."
"Previously, there was no talk at all about ensuring part of the transfer through Ukrainian gas pipelines," he stated, adding that it is worthwhile to see how the situation will develop in the future.
Morawiecki notes that Poland convincingly demonstrates the risks of the construction of the Nord Stream 2 gas pipeline.
"We count on the strong position of several countries that Nord Stream 2 as part of the Third Energy Package will be included into the EU Gas Directive," the Polish prime minister said.
The head of the Polish government says that Poland is now putting pressure on the construction of the Baltic gas pipeline, which is underway according to plan.
ish