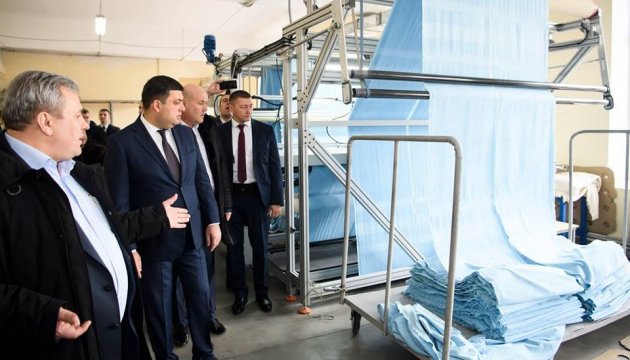 PM Groysman says 2018 will be year of industrial development and income growth
Ukrainian government policy aimed at accelerating economic growth will help make the year 2018 a year of industrial development, the creation of new enterprises and an increase in the average wage to UAH 10,000, Prime Minister Volodymyr Groysman has said.
He stated this, while speaking with employees of a light industry enterprise in Bohuslav, Kyiv region, on Friday, according to the government's press service.
Groysman drew attention to the fact that light industry had been included in the list of industries that are drivers of economic development. The task is to develop this potential and enable enterprises to attract new technologies and create new jobs. One of the steps in this direction is the adoption of the recently submitted package of 35 economic bills dealing with business protection, access to resources, promotion of innovation, etc.
"I would like to see more products and wage increases. I think that the average salary this year should be about UAH 10,000. This is the beginning ... It is important for us that in making decisions and laws we create conditions of development for entrepreneurship," Groysman said.
op