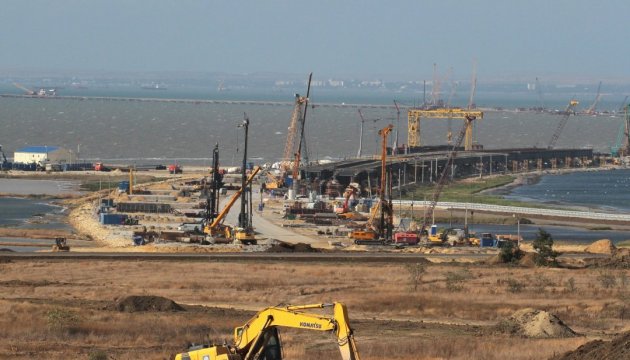 Ukraine to sue Russia over losses from Kerch Bridge construction
The introduction by Russia of restrictions on navigation through the Kerch channel in connection with the construction of a bridge brings losses to Ukrainian ports and this decision will be appealed in court, Ukrainian Deputy Infrastructure Minister Yuriy Lavreniuk has said.
"The Justice Ministry, in line with existing lawsuits against Russia, separates the problem of closing the Kerch channel and the introduction of restrictions on navigation. The lawsuit is currently being prepared and losses from the funds not received by the Mariupol and Berdiansk commercial ports are being calculated," the Infrastructure Ministry's press service quoted him as saying at a meeting with representatives of the trade unions of sea and river ports.
Lavreniuk added that the problem with the construction of the Kerch port, which was mentioned by the trade unions of the Berdiansk port, was now being solved jointly with the Foreign Ministry and the National Security and Defense Council.
"This is a global, political and complex issue, but we will definitely resolve it," he said.
The Russian Transport Ministry plans to close the Kerch Strait for 23 days in August-September 2017.
Lavreniuk added that such actions could cause significant damage not only to the safety of navigation, but also to the national security of Ukraine as a whole.
op