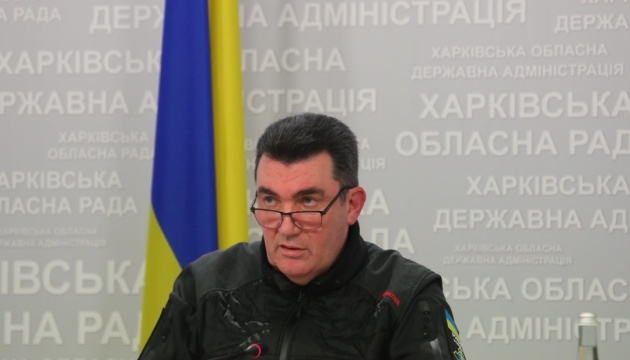 Russia not to be able to provoke Ukraine's Army to active hostilities – NSDC Secretary
The Russian Federation is making every effort to create a casus belli to launch a full-scale offensive, but it won't be able to provoke Ukraine into active hostilities.
This was stated by Secretary of the National Security and Defense Council Oleksiy Danilov at a briefing within the national forum "Safe and prosperous communities of the future," an Ukrinform correspondent reports.
"This is their task (to create a casus belli - ed.). They have long set such tasks before themselves, but our military can return fire only if their lives are threatened ... We don't carry out these shellings (of Donetsk and Luhansk - ed.), we have nothing to do with these shellings. We have warned and are now warning that they (Russia - ed.) may fantasize as much as they want, they may do anything, and we are ready for that. Moreover, the world is ready for this. I would like to emphasize once again that we understand what is happening. Russia's desire to provoke us to active moves won't work," Danilov said.
The NSDC secretary also stressed that Ukraine would never resort to a scenario involving the use of force, as it would lead to heavy casualties among the civilian population.
"We cannot conduct any military actions against our population," the secretary of the National Security and Defense Council stressed.
As Ukrinform reported earlier, on February 18, the leaders of the so-called "LPR/DPR" announced the evacuation of residents of the occupied territories to Russia's Rostov region over what they claimed was an alleged offensive by the Armed Forces of Ukraine
The Commander-in-Chief of the Armed Forces of Ukraine, Valeriy Zaluzhnyi, addressed the residents of the occupied areas of Donetsk and Luhansk regions, emphasizing that Ukraine is not conducting any offensive operations in eastern Ukraine, and called not to believe the occupiers' lies.
Viktor Lysiuk, head of the Joint Center for Civil-Military Cooperation at the Joint Forces Headquarters, said that over the past five days, the Ukrainian military had recorded 104 shellings of civilian targets by Russian occupation forces in Donetsk and Luhansk regions. Forty-four houses were damaged, four educational facilities were destroyed, two cars and a garage, as well as five civil infrastructure sites were damaged. As a result of the shelling, two civilians were injured and three people were shell-shocked.
im