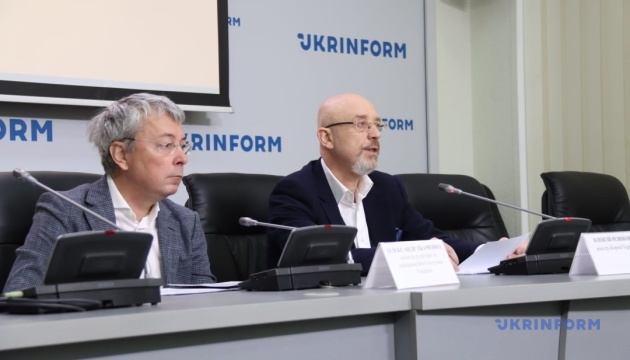 Video address of "LPR/DPR" leaders de facto documents Russia's crime - Reznikov
The leaders of the "LPR" and "DPR" pseudo-republics, who had previously recorded a video message to the local population, de facto documented Russia's crime.
This was stated at a briefing in Ukrinform by the Minister of Defense of Ukraine, Oleksiy Reznikov.
"Militant warlords, who recorded the infamous appeals, de facto told about the 'shelling' two days before it started. Then they staged a farce with 'emergency evacuation,' without any reason, just to draw a picture for their propaganda. In fact, they took the elderly, women, and children hostage to make them part of a military operation," he said.
Reznikov clarified that currently the people, who were transported to Russia's Rostov region and abandoned there, are trying to get back home.
"At the same time, the Russian occupation administrations announced general mobilization, that is, also took the (local - ed.) men hostage. Almost no one wants to take part in this farce voluntarily. That is why people are being forced to take up arms and intimidated, otherwise being recognized as Ukrainian spies and tortured," the minister said.
He clarified that since the occupiers failed to provoke Ukrainian troops, and most residents of the temporarily occupied territories of Luhansk and Donetsk regions no longer believe them, they are increasing the intensity of provocations – in particular, on Sunday night they fired at the city of Luhansk.
Reznikov recalled that on Saturday, the Defense Ministry's Main Intelligence Directorate released a list of sites where occupation forces could carry out acts of sabotage to cause emergency situations and bring casualties.
"We draw the world's attention to these criminal acts," he said.
The minister says he believes the combat-readiness of the Ukrainian Army, resilience of Ukraine's society, and support of Ukraine's partners will serve as a deterrent that will avert a scenario of large-scale escalation and restore the ceasefire in Donbas.
As Ukrinform reported earlier, self-styled leaders of the so-called "LPR/DPR" announced the evacuation of civilian residents of the occupied territories to Russia's Rostov region due to what they claimed was an alleged offensive by the Armed Forces of Ukraine.
For his part, the Commander-in-Chief of the Armed Forces of Ukraine, Valeriy Zaluzhnyi, addressed the people in the occupied areas of Donetsk and Luhansk regions, emphasizing that Ukraine is not conducting any offensive operations in eastern Ukraine, and called on them to not believe the occupiers' lies.
im