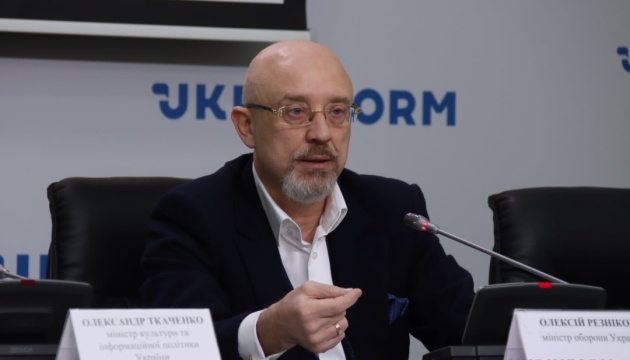 Ukrainian Army has no plans for offensive in any areas – defense ministry
The Ukrainian Army is not planning any offensive operations anywhere as the country stands for regaining its territories and people through political and diplomatic means.
This was announced at a briefing in Ukrinform by Defense Minister Oleksiy Reznikov.
"I emphasize once again that the Ukrainian Army is not planning any offensive actions. Anywhere. We stand for regaining our people and territories through political and diplomatic means. And we will regain them in due course, both certain areas of Donetsk and Luhansk regions, and Crimea along with Sevastopol," Reznikov said.
The minister also noted that the coalition of real support for Ukraine is currently growing. He recalled a series of talks held with Ukraine's international partners, including Canadian National defense chief Anita Anand, Swedish defense minister Peter Gultqvist, Dutch defense minister Kaisa Ollongren and top defense officials from other countries.
"I thanked Minister Anand for the plane that brought weapons from Canada, which we met the same day. The day before there was a plane that brought Javelins from Estonia. The Netherlands has confirmed its intention to provide Ukraine with defensive weapons. Polish friends have stated that they will increase the amount of aid," the defense chief said.
Reznikov said Ukraine was actively working to replenish reserves of both aircraft and armor.
"In particular, we again appealed to all nations, even those who are not willing to supply us with lethal weapons, to help quickly replenish the reserves of protective means," said Reznikov.
According to the defense minister, currently Ukraine is trying to work out three options for arms replenishment: production in Ukraine, imports, and international aid. He clarified that the combination of these three sources includes procurement.
The Minister informed that in the coming days a number of political events have been announced in Russia, where decisions concerning Ukraine could be made, while active diplomatic efforts are also underway.
"We are fully focused and ready to respond. In parallel lines, we are doing our current work. This week, our proposals will be considered in both parliament and cabinet. We plan to hold exercises throughout the year," the minister said.
Separately, Reznikov reminded that during his speech on Friday at an hour of questions to the government in the Verkhovna Rada, Ukraine's parliament, he stressed that since the enemy has already applied this method of pressure, they could do it again at any time.
"We must see this threat as permanent and be ready to fight back at any moment. And we are preparing – to implement reforms, to implement NATO principles and standards, and to provide our Army with modern weapons of Ukrainian production. And I ask everyone to believe in and support our Army," Reznikov said.
Russia has amassed military forces in the temporarily occupied territories of Ukraine and around its borders.
The Kremlin is trying to use these military preparations as blackmail against United States and NATO, having issued an ultimatum on the so-called security guarantees to ensure NATO's eastward non-expansion and renunciation of the bloc's existing security policy.
Russia has demanded that the United States and NATO respond in writing to its proposals for "security guarantees." The answer was received on January 26. Russian Foreign Minister Sergei Lavrov said the response was generally unsatisfactory, adding, however, that dialogue would continue.
If the West refuses to accept Russia's "proposals," the Kremlin authorities publicly threaten "military and military-technical" measures.
On February 15, the Russian Defense Ministry announced that units of their Western and Southern military districts are gradually returning from the sites of exercises to their permanent bases.
As of February 16, there were 125,000 Russian ground troops on the border with Ukraine, while the total number of Russian troops amassed around Ukraine, including their naval and air components, is about 140,000. In the temporarily occupied territories of Donbas, the Russian Federation maintains a contingent of 35,000 mercenaries. According to intelligence data, the actual withdrawal of troops claimed by the Russian Federation has not been observed so far.
im