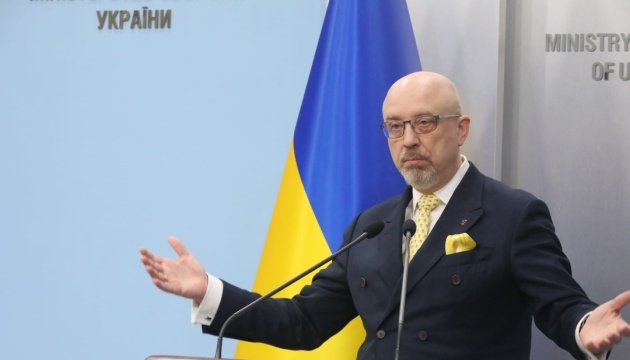 Likelihood of major escalation by Russia assessed as low – Ukraine's defense chief
Defense Minister Oleksiy Reznikov assures that Ukraine continues to assess as low the probability of a significant military escalation on the part of Russia.
That's according to the Defense Ministry's press service, Ukrinform reports.
"We have all the information and assess the situation realistically. Many different hypothetical assessments and forecasts are out there now, especially in foreign media. Some even reported that Russia had already invaded. In fact, this did happen, eight years ago. I'd like to emphasize once again, as I've said many times before. It is the duty of our military to look into all possible scenarios, even the worst-case ones, and do everything possible to neutralize threats. This is what we're doing. Today, the likelihood of significant escalation is still low," he said.
According to Reznikov, there's nothing unexpected in the latest events that have been developing in line with the forecasts announced earlier.
"In a few days, the active phase of the Russian-Belarusian exercises will kick off, which will last until February 20. At the same time, forces of Russia's Southern Military District will be undergoing exercises in the same period. As I reported at a briefing on Thursday, units are currently arriving in Belarus from the Eastern and Central Military Districts of the Russian Federation – something we've been observing for the past few weeks. Some units are yet to arrive. We are doing everything possible to monitor such situations. The Commander-in-Chief of the Armed Forces of Ukraine, Lieutenant General Valeriy Zaluzhnyi, previously stressed that, since October 2021, the necessary measures have been taken - both at the level of planning and at the level of practical exercises – to repel the aggressor. On Friday, I was invited to a major training session held by the Ministry of Internal Affairs. That is, we are acting in a planned and coordinated manner to eliminate any provocations," Reznikov said.
The defense chief added that unprecedented military assistance from international partners had significantly increased Ukraine's resilience capabilities.
"Our military is already actively training in using defensive weapons. They are a very effective deterrence tool. The deployment of our Army's Territorial Defense Forces is also gaining momentum. Lots of preparatory efforts are underway involving our civilians," said the Minister.
As Ukrinform reported earlier, the U.S. administration continues to provide defense support to Ukraine against the background of the buildup of Russian forces near the Ukrainian border. Also, the United States is strengthening its allies on NATO's eastern flank.
im