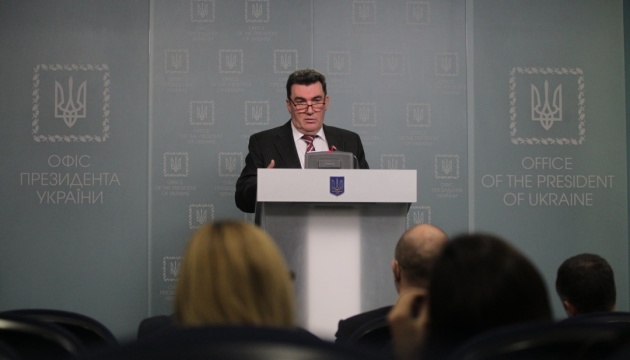 Russian offensive now impossible even physically - NSDC secretary
Ukrainian authorities urge citizens to remain calm as tensions mount in international media reports, noting that an actual military incursion into Ukraine on the part of Russia is "physically impossible" at the moment.
That's according to the Secretary of the National Security and Defense Council of Ukraine, Oleksiy Danilov, who also spoke of a national alert system which would be activated should Russia opt for an escalation at Ukraine's borders, an Ukrinform correspondent reported from a briefing following an NSDC meeting held Monday afternoon, chaired by President Volodymyr Zelensky.
"As for the population: calm, tranquility and calm, again. In case we need it, we have a national alert system. We will not be hiding anything as you see that we put all ongoing processes forward to your discretion and remain ready to communicate any case," Danilov assured the public.
According to the NSDC secretary, Russia's full-scale offensive on Ukraine is off the table at the moment. "We don't see any grounds for allegations of an (imminent) – ed.) offensive against our country today. It would be impossible to pull this out, even physically," the secretary of the National Security and Defense Council stressed.
At the same time, the movement of Russia's forces is really underway across Russian territory, Danilov confirmed "We are recording it, but there's nothing strange for us. It's a surprise for our foreign partners that they have finally seen that there are Russian troops there, that they are moving in a certain way. This whole thing has been developing since October 30, when the Washington Post released its report," Danilov recalled.
Today, the NSDC secretary believes, many nations are ready to support Ukraine by supplying weapons to protect its territory.
"We are very pleased that the world has finally noticed that we're faced with this aggression. Today it's not just the UK, the U.S. -- mostly, these are NATO allies that are ready to help us if necessary so that our sovereignty and our country are protected," said the secretary of the Security Council, adding that his attitude to Germany in terms of assistance provided has not changed.
As reported earlier, Oleksiy Danilov said that he believed Germany and France were partly responsible for the occupation of Crimea because Russia decided to attack after the major European powers refused to grant Ukraine a NATO Membership Action Plan back in 2008.
im