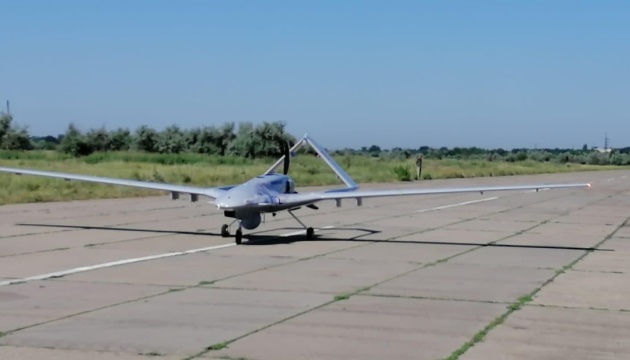 Ukrainian army planning to increase number of Bayraktar drones
Ukraine's top military leadership was forced to use a Bayraktar drone after Russian mercenaries killed one Ukrainian service member and wounded another, according to Lieutenant General Serhiy Shaptala, Chief of the General Staff of the Ukrainian Armed Forces.
According to an Ukrinform correspondent, he said this on the Right to Power program on the 1+1 television channel.
"We saw that our soldiers were being fired at. They [Russian occupation forces] violated the Minsk agreements. They deployed towed artillery that fired on our positions, where our serviceman was killed and one was wounded. After the OSCE and a diplomatic note did not work, the command-in-chief decided to respond by firing from a Bayraktar," Shaptala said.
When asked why the Ukrainian military did not use artillery, he said: "Artillery would be a violation of the Minsk agreements."
Shaptala also denied Russian media reports that a Ukrainian Bayraktar had allegedly flown into the territory temporarily out of Ukraine's control.
"If the Bayraktar had flown into their territory, I think they would have taken this opportunity and would have destroyed it. We did not violate this [line of contact]," he said.
Shaptala also noted that Russian occupation forces not only began artillery shelling of Ukrainian positions, but also moved their artillery to the front line.
"They violated the distances to which they had to withdraw their artillery, they pulled it back to the front line," Shaptala said, adding that the Ukrainian military would continue to use all necessary weapons in response to attacks by Russian-led forces.
"The state buys Bayraktars for us. We have them in service. And we do not stop here. We will continue to increase their number. The situation they are discussing now – whether it was right or wrong that we used a Bayraktar - was the decision by the commander-in-chief," Shaptala said.
On October 26, the Ukrainian Armed Forces used a Bayraktar reconnaissance and strike drone for the first time in the area of the Joint Forces Operation after Russian terrorist forces opened fire on Ukrainian positions from D-30 howitzers near the village of Hranitne.
Two servicemen of the Ukrainian Armed Forces were wounded in the shelling, and one of them died later.
op