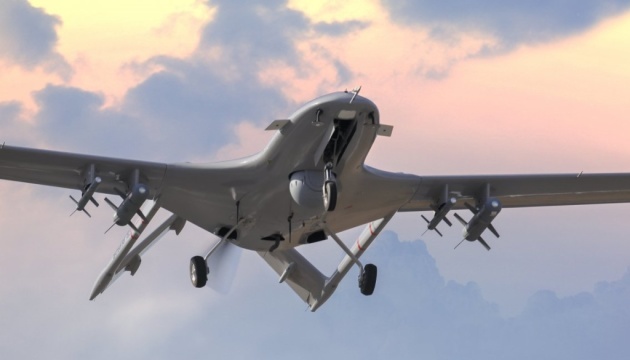 Start of Bayraktar production in Ukraine "matter of months," not years - Ambassador to Turkey
The full cycle of the Bayraktar UAV production will be launched in the short term – it is a matter of months, not years.
That's according to Ukraine's Ambassador to the Republic of Turkey, Vasyl Bodnar, who spoke with RFE/RL's Ukrainian bureau.
"In fact, this is probably a matter of months, not years. And work is already underway to allocate the appropriate land plot to begin substantive operations on the construction of this maintenance and repair center. Also, on a parallel track, the work is underway to create production capacities and launch Bayraktar production in Ukraine," Bodnar said.
According to the envoy, the pace of the ongoing work is quite fast.
"The information I have speaks of the full-scale production from scratch of drones which could be used for both covering the needs of the Armed Forces of Ukraine and supplying to third-country markets ... And production Turkey, I believe, is at full capacity. Therefore, additional full-cycle production facilities are also in the interest of the Turkish side to develop new markets and jointly conduct tests and later, perhaps, train some foreign colleagues to master this technology and jointly shape the defense field," the diplomat explained.
Bodnar also recalled a joint venture created for the production of Akıncı UAVs.
'In addition, you know that we have in fact set up a joint venture to produce a new type of unmanned aerial vehicles, the Akıncı, to which the Ukrainian side supplies engines and some other spare parts. That is, here we have complementarity and it's based on both our strategic interest and mutual technological compatibility that we build our relationship. This is one of these high-tech drivers with concrete results and dimensions," the ambassador said.
As Ukrinform reported earlier, the Ministry of Defense of Ukraine and the Turkish company Bayraktar Savunma signed on September 29 a memorandum of cooperation. According to the memo, Bayraktar will build on a land plot outside Kyiv, owned by the Ministry of Defense, a center for maintenance, current repairs, and modernization of the company's UAVs. The center will also train and retrain personnel operating these drones. A number of such centers is expected o be set up in Ukraine over time.
im