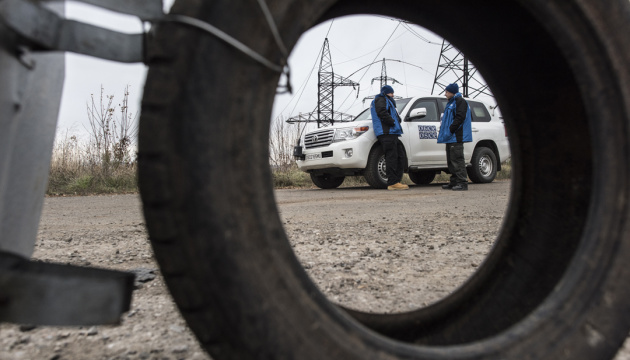 OSCE observers elaborate on blocking of patrolling in occupied Donetsk
OSCE SMM monitors in Donetsk on the morning of October 24 resumed regular patrolling after the Russian occupation administration the day before lifted a blockade of the hotel they were staying in.
That's according to the OSCE Special Monitoring Mission's daily report No. 250/2021, posted on the OSCE website on October 25.
"The SMM observed that the gathering in front of the hotel where Mission members reside in non-government-controlled Donetsk city ended on 23 October. The SMM resumed its regular operations on 24 October," the report said.
According to the document, on October 23, a mass gathering continued outside the said hotel. For security reasons, "there continued to be no patrol movement in and out of its premises."
"On the afternoon on 23 October, two protesters (men, in their twenties) who introduced themselves as "representatives" of the wider group of protesters, informed two Mission members that as a consequence of a worsening situation related to COVID-19 in Donetsk City, all public gatherings were suspended and that the protest would continue online," the report said.
By October 24, the SMM "observed all tents had been removed except two large, military-style tents in front of the hotel, the mobile kitchen, as well as one car marked "police" parked near the western entrance driveway of the hotel, but not blocking it."
As Ukrinform reported earlier, on October 13, servicemen with the Joint Forces near the town of Zolote (a part of Luhansk region controlled by Ukraine government forces) detained Andriy Kosyak, a resident of Alchevsk, member of the illegal armed group "LPR" who obtained Russian citizenship as part of a massive passportization campaign pursued by Russia in the occupied territories. The suspect was detained as he was reconnoitering the area near the abandoned defense positions of Ukraine forces, disguising his mission as "demining works."
Following this, on October 15, an organized gathering outside the Park Inn hotel in the occupied Donetsk where the OSCE SMM office is located, prevented the monitors from leaving the hotel premises, thus effectively blocking the patrolling efforts. The "protesters" demanded that Ukraine authorities release Andriy Kosyak.
The European Union has stated it will raise the issue of blocking the SMM's work in occupied Donetsk at OSCE meetings in Vienna and on a bilateral basis with Russia. OSCE Chairperson-in-Office Ann Linde and OSCE Secretary General Helga Schmid called for unblocking the SMM's work.
im