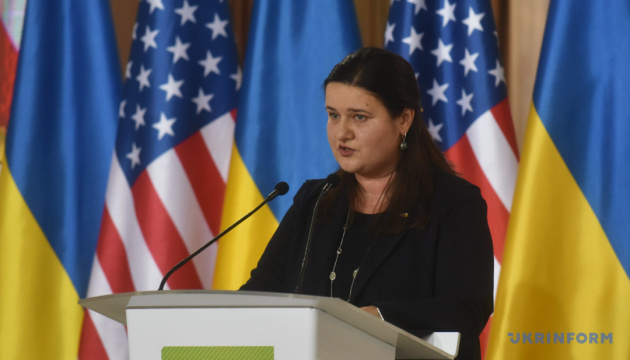 Ukraine, U.S. accelerating defense cooperation – Ambassador Markarova
Cooperation between Ukraine and the United States in the field of security and defense is currently gaining pace, including through developing new areas of cooperation, while the Pentagon chief's recent visit to Kyiv only confirms this push.
That's according to Ukraine's Ambassador to the USA, Oksana Markarova, who offered Ukrinform her exclusive comment.
"First of all, we are accelerating and developing to the maximum the areas of cooperation that have already been planned, starting with boats (which the United States is handing over to Ukraine - ed.), preparing and training the crews. But there will also be new elements of cooperation that we are discussing now. They will be reflected in both the budgets of the coming years and separate documents that are yet to be signed," Markarova said.
She stressed that the plans for bilateral cooperation in the field of security and defense are very extensive, "but we will be able to reveal details once they are implemented." On the Ukrainian side, the envoy added, the main role in this process will be assigned to the Armed Forces and the Ministry of Defense, "but diplomats – both the embassy and the Foreign Ministry of Ukraine in general, are also very actively engaged in the process."
In this context, the ambassador also focused on the Kyiv visit of U.S. Secretary of Defense Lloyd Austin and his meetings with the country's top leadership, which took place earlier this week.
"This visit was very important, and we are glad that it took place shortly after the signing during our President's visit to the United States of the Framework Agreement between our countries on the strategic foundations of defense partnership," the ambassador said.
She noted that the document "opens opportunities and lays foundations for our cooperation on all key priorities."
According to the ambassador, one of these priorities concerns the development of Ukraine's naval capabilities and security in the Black Sea region. "This is important for us, this is important for the United States as our strategic partner, and in general the issue is extremely important for our entire region," Markarova said.
Therefore, the visit of the U.S. Secretary of Defense to Ukraine sends a powerful signal as such. "Also, during the visit, the President, the Minister of Defense, and the Commander-in-Chief of the Armed Forces of Ukraine had the opportunity to discuss multiple issues. Therefore, this is another, but not the last, step in expanding our cooperation," Markarova said.
As Ukrinform reported earlier, U.S. Secretary of Defense Lloyd Austin arrived in Ukraine on October 19 as part of a European tour, during which he also visited Georgia and Romania and then completed the trip at the NATO defense ministerial in Brussels.
im