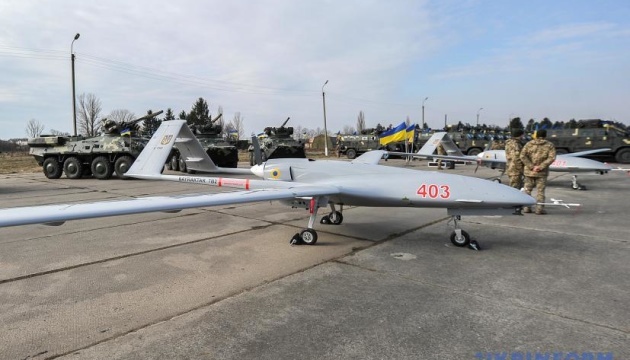 Turkey's Bayrak Makina to install Ukrainian engines on all its UAVs
Turkey-based arms producer Bayrak Makina is currently using Ukrainian engines in the production of their new-generation Akıncı combat drones, further planning to install them on all company products.
That's according to Baykar Makina's CEO Haluk Bayraktar who spoke with Dom TV.
The top manager noted that across the countries neighboring Ukraine, Bayrak Makina was the first producer to focus on Ukrainian technologies and offer full-scale cooperation, concluded in 2018.
"Relations in the field of drone production between Ukraine and Turkey have become strategically important, especially in recent years. Ukraine's aviation industry technology is at the highest level, world-standard level. And we have something to offer each other in this cooperation ... we are sure that through the efforts of our researchers, Turkish and Ukrainian, we will reach new horizons in the production of high-quality unmanned aerial vehicles," Bayraktar said.
He stressed that the area of UAV construction will further develop, so cooperation with Ukraine will therefore expand.
"Our plans also include manufacture of modernized hardware, higher-end aircraft. And we intend to install the Ukrainian manufacturer's engines on all our vehicles set to be produced in the near future," said the CEO.
Bayraktar demonstrated the latest generation model of their Akinci drone, running on Ukrainian engines.
"This is one of our main innovations now, the Akinci drone, equipped with a Ukrainian engine. This is a technology that now literally few countries in the world own, some two or three countries. This is a new generation unmanned aerial vehicle, it will be able to operate on strategic long-distance routes," Bayraktar said.
UAV production capacities could be set up in Ukraine, he added.
"It all depends on Ukraine. If Ukraine is interested in the production of such aircraft, Turkey is happy to cooperate and implement joint production programs. Of course, for countries that face the issue of defense and preservation of territorial integrity, our company products and these technologies are strategically important," the CEO assured.
As reported, Bayrak Makina has also won acclaim for their Bayraktar TB2 - a medium-altitude long-endurance (MALE) unmanned combat aerial vehicle capable of operating for more than 12 hours straight. The Bayraktar TB2 performs reconnaissance missions and hits targets with high-precision missiles and bombs.
Several Bayraktar TB2 drones are already in service with the Armed Forces of Ukraine and have been tested in the combat zone in the country's east.
In total, Ukraine intends to purchase 48 such vehicles.
im