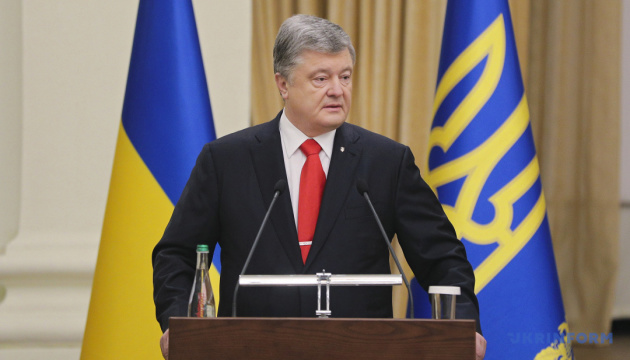 Poroshenko: Russian troops near Ukraine's border meant for strike
Russia has not given up the attempts to achieve its goals in Ukraine by military means, and the threat of a full-scale war remains real.
"Russia has not given up the attempts to achieve its goals in Ukraine by military means. The aggressor is deploying new military units near our borders, building up the potential for a possible invasion," President of Ukraine Petro Poroshenko said at the opening of the operational-strategic meeting with the leadership of the Armed Forces of Ukraine, an Ukrinform correspondent reports.
In particular, the Head of State informed that Russia continued to form a joint strategic command "West" consisting of two combined-arms armies, a tank army, an army corps, an army of military air forces and antiaircraft defense.
In the South-Western strategic direction, the 8th combined-arms army exercises direct control over two army corps of the Russian Federation deployed in the temporarily occupied territories of Donetsk and Luhansk regions.
In addition, the President noted, there is an unprecedented militarization of the Black Sea region. The aggressor created a powerful formation in the territory of the temporarily occupied Crimea which includes land, air and sea components with a total number of more than 30,000 military personnel.
"The missile units equipped with the Iskander systems are being formed and deployed near our borders, and the creation of strike operating forces in western and south-western strategic directions has absolutely nothing to do with the defense of the Russian Federation. We all understand that these forces are meant for a military strike, and the Kremlin is getting ready for it. Therefore, I believe that the threat of a full-scale war ... is quite real, especially in the light of the enemy's ongoing military preparations conducted near the state border of Ukraine in Smolensk, Voronezh, Belgorod, Rostov regions and in the territory of annexed Crimea," Poroshenko stressed.
ol