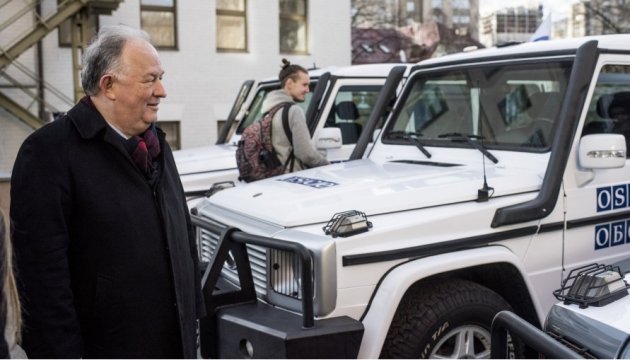 OSCE SMM to continue to work in Ukraine – Chief Monitor Apakan
Chief Monitor of the OSCE Special Monitoring Mission to Ukraine Ertugrul Apakan is travelling today to the site of death of the OSCE SMM monitor, who was killed in the patrol car blast in the temporarily uncontrolled area of eastern Ukraine yesterday.
This is said in Apakan's statement published on the OSCE website on Monday.
"I am today travelling to the area [where the tragedy occurred] to extend my support to the monitors and understand the situation better," Ertugrul Apakan says.
He also notes that "the entire OSCE Special Monitoring Mission is filled with great sorrow at the loss of a team member while conducting a patrol near non-government controlled Pyshyb in the Luhansk region yesterday morning. One of our armoured vehicles experienced an explosion, likely a mine, resulting in the tragic death of a paramedic from the United States working with the OSCE SMM."
Apakan specifies that two more patrol members from Germany and the Czech Republic were admitted to hospital for medical examination.
"I reiterate my call for sustainable cease-fire, withdrawal of weapons, full demining and real commitment to peace. And I ask that those responsible for placing mines are held accountable," Apakan says.
At the same time, the Chief Monitor of the OSCE Special Monitoring Mission to Ukraine notes that in spite of the tragedy, the OSCE monitors "remain committed to fulfilling our mandate and contributing to bring peace to the people of Ukraine."
ol