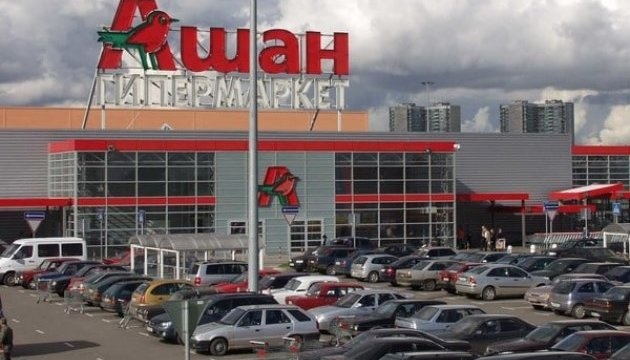 Exposed: Auchan subsidiary supplied goods to Russian military, aided mobilization effort
The Russian subsidiary of the France-based Auchan retail chain supplied goods to the Russian military in the temporarily occupied territories under the guise of humanitarian aid, and also helped draft officers recruit conscripts.
This is reported by Ukrinform with reference to a joint investigation by The Insider, Le Monde, and Bellingcat.
The deliveries consisted of goods from Auchan warehouses, as well as porducts collected by volunteers at Auchan stores in various regions of Russia.
The investigation cites a letter sent out to employees of St. Petersburg stores: "Colleagues, please collect a cession for humanitarian aid (according to the list in attachment) and send it to the North store tonight... Palletizing rules (including for logistics goods): mark the pallet as HUMANITARIAN AID."
The goods in the mentioned attachment look nothing like "humanitarian aid" but more like army gear: male socks in various sizes, cigarettes (which are not supplied as humanitarian aid), lighters, and razors. At the same time, there is nothing offered for women or children. The number of goods (1,000 tubes of toothpaste, 500 lighters) indicates that there are many recipients, at the level of 1-2 battalions.
Further, this "humanitarian aid" is formalized as a purchase by 10 legal entities. These companies are related to each other: they all serve St. Petersburg's Passazhiravtotrans, which, in turn, belongs to the municipal transport committee. Some of these legal entities, responding to the journalists' inquiry, did not hide the fact that the goods were sent to the Russian military.
Auchan used more than their St. Petersburg stores to supply goods to the occupying force. This is evidenced by the fact that the delivery was coordinated with the Moscow office, and that in other regions, the collection of aid in the premises of shopping centers owned by Auchan was also observed. In Samara, Rybinsk, and Vladimir, "humanitarian aid for Donbas" collection points were located at Auchan stores.
As noted in the investigation, apparently, not only Auchan, but also Leroy Merlin, which belongs to the same holding, was engaged in the supply of goods to the Ukrainian territories occupied by Russian troops. For example, in a video from Mariupol, posted in December, members of the Young Guard of United Russia are unloading identical Leroy Merlin-branded pallets.
Also, according to the authors of the investigation, Auchan helped Russian authorities deal with military draft evaders: the company collected and transferred data on their employees to military commissariats, and after the mobilization was announced, the company helped draft offices fulfill the call-up norm: employees were served with draft notices at their workplace and offered to resign.
The Auchan chain is one of the 10 largest foreign companies still operating in Russia.