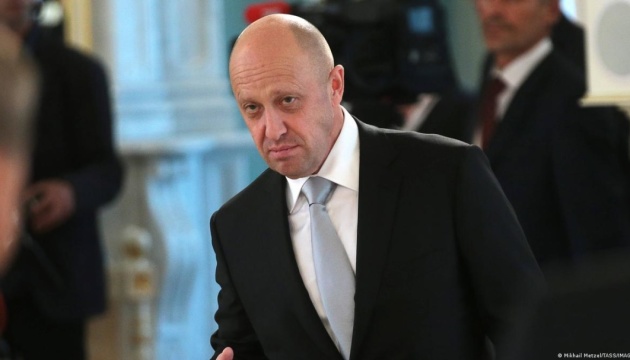 Ukraine presses charges against Wagner boss Prigozhin
The Prosecutor General's Office of Ukraine has pressed criminal charges against Yevgeny Prigozhin, head of the notorious Wagner Group.
The corresponding statement was published in the Uriadovyi Kuryer government gazette, Ukrinform reports.
Prigozhin was charged with encroaching on the territorial integrity and inviolability of Ukraine (Article 110 Part 3 of the Criminal Code of Ukraine) and of waging an war of aggression against Ukraine (Article 437 Part 2).
"A notice of suspicion of Feb 2, 2023, in a criminal proceeding No. 42022000000001269 of Sep 9, 2022, regarding the citizen of the Russian Federation Yevgeny Viktorovich Prigozhin, born on June 1, 1961, who is suspected of committing criminal offenses laid down in Art. 110 Part 3, Art. 28 Part 2, and Art. 437 Part 2 of the Criminal Code of Ukraine," the charge states.
The Uriadovyi Kuryer also published a subpoena to summon Prigozhin to the Prosecutor General's Office for interrogation on February 13, 14, and 15.
It is noted that the full text of the charge, as well as that of the subpoena, including in Russian, is posted on the website of the Prosecutor General's Office in the section "Subpoenas and information on the special pre-trial investigation."
As Ukrinform reported earlier, Prigozhin, who once was "Putin's personal chef", now manages the Wagner Private Military Company, being one of the key figures in Russia's military campaign unleashed against Ukraine.
The Wagner Group is an armed organization that in fact operates beyond Russia's legal field, openly recruiting mercenaries from among convicts held correctional colonies. The group is now taking a direct part in Russia's war of aggression against Ukraine. Multiple videos circulated on the internet show the group boss Prigozhin personally pep talking to convicts, trying to recruit them for fighting in Ukraine.
On January 20, the U.S. Treasury recognized the Wagner Group as a "transnational criminal organization, which provides for the introduction of more sanctions against the Group and its international allies.
Wagner mercenaries traditionally apply threats and terrorist methods as part of their operational toolkit. In November 2022, they killed their former fighter Yevgeny Nuzhin with a sledgehammer, posting a video of the massacre on social media. Almost immediately, with a transparent hint, Progozhin sent to the European Parliament a violin case containing a sledgehammer with imitation blood stains.