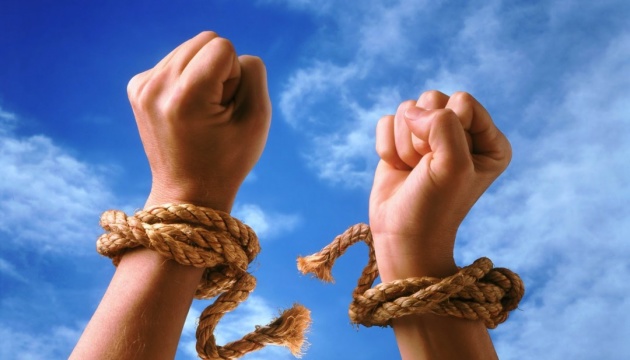 Human trafficking: Ukraine police investigate 130 incidents since year-start
Ukraine police say 130 cases of human trafficking have already been detected in the first half of 2021.
That's according to Deputy Interior Minister Kateryna Pavlichenko who spoke at the presentation of an audio documentary series "It Won't Happen to Me" covering the topic of trafficking in persons, an Ukrinform correspondent reports.
"As for statistics, the National Police say 130 cases of human trafficking have already been exposed in the first half of this year," Pavlichenko said.
She noted that the vast majority of established cases of trafficking in persons involve attracting victims to criminal activity, and the second and third most frequent cases are about labor and sexual exploitation.
For his part, head of the Migration Police Department with the National Police, Serhiy Panteleiev, noted that this year the police succeeded in exposing and liquidating 26 organized criminal groups engaged in ​​human trafficking, which consisted of 139 suspects.
"Regarding the fight against human trafficking, we deal with two issues: human trafficking, which begins and completes in our country, where labor and sexual exploitation are more common; and human trafficking, which begins in our country with recruitment, completing its corpus delicti in other countries," the officer said.
According to Panteleyev, Ukrainian police are currently participating in four international investigation teams in cases where victims were recruited in Ukraine before being trafficked across the border.
"There have been no such (international investigation – ed.) groups previously. This allows us to conduct investigation simultaneously both in our country and in countries where the crime completes, as well as to transfer the evidence obtained to those countries," he noted.
For her part, Pavlichenko called on those who have encountered a situation involving human trafficking or has been in such a situation to report such cases, contact the police and social services.
She explained that such information would be useful to other citizens and would be used by the police to bring perpetrators to justice, resolve similar crimes, expose criminal organizations, and prosecute all those involved.
As reported earlier, July 30 marks World Day against Trafficking in Persons, according to the UN decision.
im