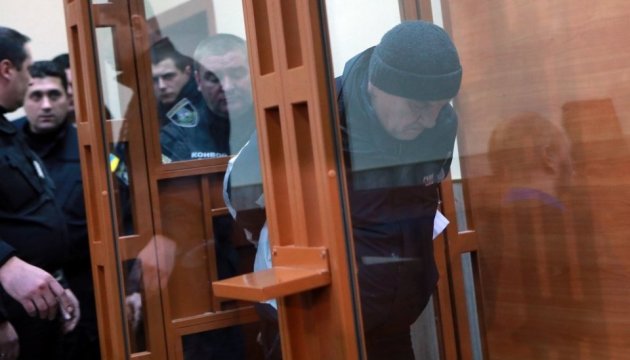 Court detains suspect in Nozdrovska's murder for 60 days
Vyshgorod District Court in Kyiv region has detained Yuriy Rossoshansky, a suspect in the murder of lawyer Iryna Nozdrovska, for 60 days without an alternative to post bail.
Judge Oleksiy Rudiuk read out a respective decision at a court session on Tuesday, January 9, an Ukrinform correspondent reports.
"The court ruled to satisfy the petition and choose a measure of restraint for Rossoshansky in the form of detention for 60 days without the possibility of posting bail," Rudiuk said.
The judge added that the ruling could be appealed within five days.
The prosecution asked the court to use such a measure of restraint for Rossoshansky, arguing that the suspect could threaten witnesses, interfere with investigators, or destroy evidence in the case.
The suspect himself asked for a measure of restraint in the form of personal recognizance, insisting that, according to him, he contributed to investigators and in no way obstructed the holding of investigative measures.
At the same time, Rossoshansky said that no pressure had been exerted on him and declined to say whether he voluntarily acknowledged the guilt. He also said that there were "numerous threats" against his family and that even some people allegedly threatened to "burn down a whole neighborhood" in which Rossoshansky's house is located.
At the same time, according to the prosecutor, Rossoshansky himself confessed during the interrogation that he had already destroyed some of the things that could have served as evidence in the case.
Previously, it was reported that on January 8, law enforcement officers detained a suspect in the murder of lawyer Iryna Nozdrovska.
Police did not name the detainee. The interior minister's adviser, Zorian Shkiriak, only confirmed that he was a close relative of Dmytro Rossoshansky, who was convicted for killing Nozdrovska's sister, Svitlana Sapatynska, in a road accident in the village of Demydiv on September 30, 2015.
However, later it became known that the detainee was Rossoshansky's father, Yuriy.
Human rights defender and lawyer Nozdrovska was found dead in Vyshgorod district, Kyiv region, on January 1, 2018. It is known that earlier she was engaged in the case on the death of her sister, who was killed by a car driven by Dmytro Rossoshansky, the nephew of the then head of the Vyshgorod District Court.
op