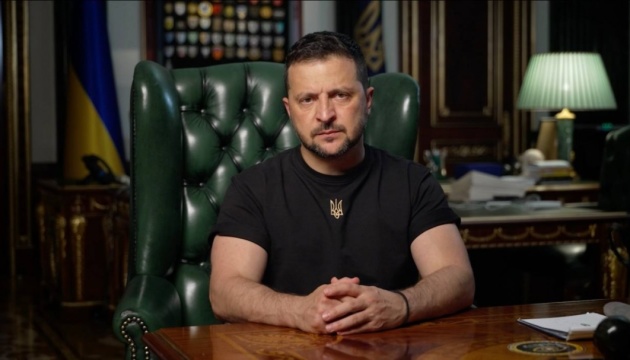 Zelensky: We are making de-occupation of Crimea more achievable and well thought out
Ukraine is making the de-occupation of Crimea more achievable and well thought out.
Ukrainian President Volodymyr Zelensky said this in his nightly video address, Ukrinform reports.
Video: Office of the President of Ukraine / Telegram
Fellow Ukrainians!
This afternoon, rescue operations in Pokrovsk, Donetsk region, after yesterday's missile attack by Russian terrorists have been completed. Nine people were killed. My condolences to the families and friends. 82 people were wounded. Everyone is being provided with the necessary assistance. Among the wounded are two children, boys, one of them is in serious condition. His name is Mykyta, he is only 11 years old, he is a 6th grade pupil. I wish a speedy recovery to everyone who suffered from this yet another Russian atrocity. There were several missile strikes. The second strike took place when the rescue operation began. This is a deliberate decision of the terrorists to cause the greatest pain and damage. And Russia will bear maximum responsibility for this - no matter how the events unfold, there must be sentences against the terrorists.
Today I would like to recognize the participants of this rescue operation in Pokrovsk. Those who proved themselves most active in helping people. These are civil protection service Senior Lieutenants Andriy Samusin and Oleksandr Shylo, and civil protection service Colonel Vyacheslav Filiushyn. National Police officers Lieutenant Oleksandr Chivenkov and Lieutenant Colonel Volodymyr Nikulin. I am especially grateful to all the medics working for people in Pokrovsk and other cities of Donetsk region, and today I would like to recognize feldsher of Myrnohrad Kateryna Zhelezniak and surgeon of Pokrovsk hospital Ihor Klimov. Thank you! I am grateful to everyone who saves lives and eliminates the consequences of Russian strikes.
Today I spoke with Prime Minister of the Netherlands Mark Rutte, and the key issue in our conversation was the protection of people, protection from Russian occupiers. We discussed in detail how to reinforce our warriors on the frontline and provide greater security to our cities and villages, to our entire land. We are preparing new defense packages, and I am grateful to Mark personally and to everyone in the Netherlands - each and every one who stands with Ukraine. We are preparing to upgrade our aviation with modern aircraft, and it is the Netherlands that can become a leader in the issue of F-16s for Ukraine. It is important that the Netherlands acceded to the G7 declaration on security guarantees for our country, and we discussed how these guarantees can be specified at the bilateral level. In addition, I invited Mark, Mr. Prime Minister, to participate in the Crimea Platform Summit at the level of leaders, which will take place on August 23.
Today, I also held a meeting on the content of our return policy, specifically regarding Crimea and its reintegration. It is obvious that after the liberation of Crimea from occupation, economic opportunities, personal security for people, and a sense of real freedom, which has not been there since 2014, will return there. But all of this should not be just abstract - every detail of the de-occupation of Crimea should have a specific meaning. How exactly normal life returns. What exactly this means for Crimea and for all our people. This should be clear to everyone. Step by step, we are making the de-occupation of Crimea more and more achievable and well-thought-out.
Today I also held a meeting on the new educational season - September 1 will come soon. Parents and teachers have questions. There are various security and preparatory nuances. The meeting was attended by Prime Minister Denys Shmyhal, Deputy Prime Minister Mykhailo Fedorov, Minister of Internal Affairs Ihor Klymenko, Minister of Education and Science Oksen Lisovyi, and their plans were presented. The content is obvious: preparation of shelters, provision of textbooks, financial and organizational resources that are needed and which the state can help with. Government officials will soon present the relevant details.
And one more thing. Today, I had the honor to congratulate our warriors-signallers on their professional day and awarded the best of them. 24 people who serve Ukraine in different units and at different levels. Serve as efficiently as it is necessary. The Signal and Cyber Security Troops of Ukraine are not often talked about. But all types and branches of the troops depend on them, on the quality of their work. Because communication is one of the key resources.
And I thank everyone who serves our country well and works for the state efficiently. There must always be a result for Ukraine. Every day at the front and in the rear... Every such day - with results - brings our victory closer. Like today - with a law enforcement result for Ukraine. For the cleaning of Ukraine. We all know that our state must change, must undergo transformation. And this means that those who work for their own benefit, not for the sake of Ukraine, will not be in public office or MPs of Ukraine. Every such dealmaker will at least stand trial.
Glory to all who fight for Ukraine!
Glory to Ukraine!