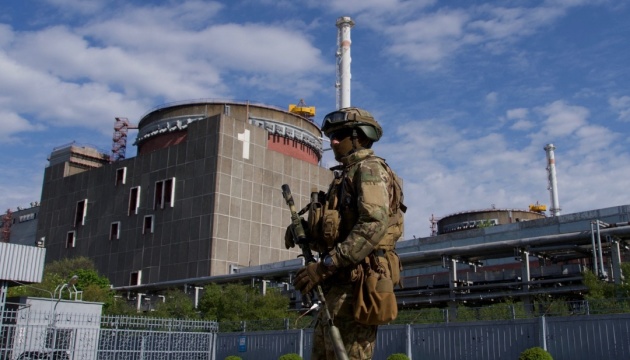 Russian presence at Zaporizhzhia NPP key problem for nuclear security - energy minister
In order to prevent an accident at the Zaporizhzhia Nuclear Power Plant, the civilized world must force the representatives of Russia, the terrorist state, to pull out of its site.
That's according to German Galushchenko, Ukraine's Energy Minister, who gave a comment to Newsmax, Ukrinform reports, referring to the Cabinet press service.
"The country that started the war and occupied the plant would be responsible for a possible disaster at the ZNPP. You can expect any behavior from the Russians. They can go as far as the civilized world will allow them to," the press service quoted the minister as saying.
Galushchenko emphasized that the primary task at the moment is to force the Russians to leave the NPP.
"Any games involving nuclear energy are a threat to hundreds of thousands of people who may be exposed to radiation. These are children and the elderly. It is obvious that any incident at the plant cannot be allowed. Under certain scenarios, countries neighboring Ukraine may also feel the consequences of the accident," he added.
The minister also emphasized the need to impose sanctions on Russia's nuclear industry because it's sanctions that can become a real tool and force the Russian Federation to return to the negotiating table for agreements on the deoccupation of the ZNPP.
Galushchenko also thanked the U.S. for the support being provided to Ukraine, reminding that Ukraine today is fighting not only for its freedom, but also for the values that lie at the core of the U.S. Constitution.
As Ukrinform reported earlier, Director General of the International Atomic Energy Agency (IAEA), Rafael Mariano Grossi, said that after running additional inspections at the Zaporizhzhia NPP over the past week, experts found no explosives or mines, but they have not yet received from Russia access to the reactor roof.
On July 21, Permanent Representative of Ukraine to international organizations in Vienna, Yevhenii Tsymbaliuk, speaking at a press conference in the capital of Austria, stated that the members of the IAEA mission at the Zaporizhzhia NPP do not have immediate and unconditional access to the entire territory of the plant and that they can wait for days to get an approval from the Russian occupation administration to gain access to the requested sites.