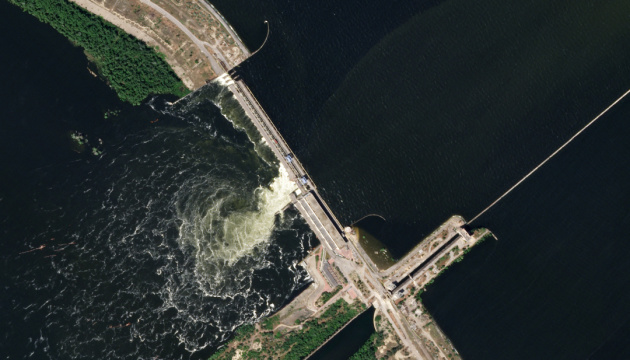 IFW - Russians deliberately destroy Kakhovka dam, evidence shows
Several independent sources reported additional evidence that an internal explosion likely destroyed the Kakhovka Hydroelectric Power Plant (KHPP) dam on June 6.
That's according to the Institute for the Study of War, Ukrinform reports.
Norwegian seismic monitoring center NORSAR reported that seismic data indicates that an explosion occurred on June 6 at 2:54am local time, about the same time as the collapse of the KHPP dam.
NORSAR seismologist Volker Oye stated that seismic data indicated a pulse of energy that was "typical of an explosion."
The New York Times reported that an unnamed senior White House official stated that U.S. spy satellites equipped with infrared sensors detected an explosion at the KHPP dam before it collapsed.
The Wall Street Journal reported that multiple engineers and munitions experts assessed that an explosive blast likely detonated at a specific point or multiple points of weakness, which destroyed the KHPP dam.
The preponderance of evidence suggests that a deliberate explosion damaged the KHPP dam, the report reads.
"ISW continues to assess that the balance of evidence, reasoning, and rhetoric suggests that the Russians deliberately damaged the dam," ISW concludes.
As Ukrinform reported earlier, on the night of June 6, Russian forces blew up the Kakhovka HPP dam. The plant cannot be restored, according to the operator. In Kherson region, a rescue and evacuation operation is underway to get the people out of the flooded areas. The situation is especially difficult in the temporarily occupied territories, where the invaders left people without any help.