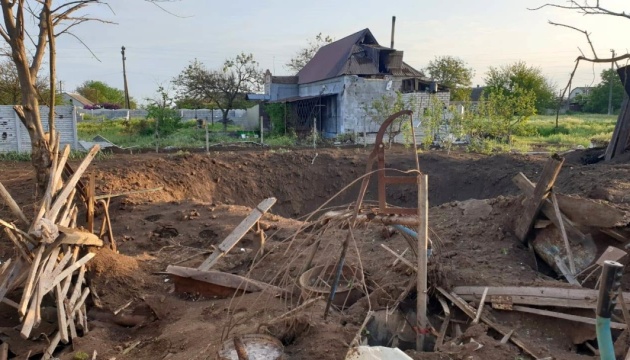 Russian army attacks nine regions of Ukraine in 24 hours
The Russian army attacked nine regions of Ukraine over the past day.
That's according to a summary of Regional Military Administrations' information on the situation in the regions of Ukraine as of 9:00 a.m. on June 1, Ukrinform reports.
In Kyiv region, during a night air raid, the enemy attacked with missiles. All targets were destroyed. No hits were recorded on the territory of the region, there were no casualties. As a result of falling debris in one of the settlements, a grass flooring caught fire - the fire was extinguished. Operational groups continue to work on identifying the consequences of the attack.
In Chernihiv region, five mortar and cannon artillery attacks were recorded in Novhorod-Siverskyi and Koriukivka districts over the last day. A house and a power line were damaged in one of the villages of Koriukivka district. There were no casualties.
In the Sumy region, the enemy carried out an artillery attack at night on the territory of the Krasnopillia community. Preliminary, there were no consequences. The data is being clarified.
Yesterday, Russians made ten attacks during the day. 42 explosions were recorded. Velyka Pysarivka, Esman, Krasnopillia, Seredyna-Buda, Shalyhyne and Yunakivka communities were shelled.
In Krasnopillia community, the enemy carried out artillery shelling, as a result of which windows in a two-story building were smashed, the warehouses of a farm and five civilian vehicles were damaged, and a water tower was damaged.
In Zaporizhzhia region, the enemy conducted 78 attacks on 20 localities over the last day: they launched an air strike on Orikhiv, attacked Olhivske with a UAV, and shelled Komyshuvakha, Zaliznychnu, Chervona Krynytsia, Poltavka, Yehorivka and Stepove with MLRS. On the front line, 70 artillery attacks took place in Huliaipole, Novoandriivka, Stepnohirsk, Kamianske, and other villages. There were no casualties.
There were 23 new reports of destruction of civilian objects: residential and garden houses, garages, outbuildings and other property of residents.
In Dnipropetrovsk region, yesterday afternoon the enemy shelled Marhanets community in Nikopol district. They fired from heavy artillery.
In the morning, the aggressor directed heavy artillery at the Marhanets community. They launched almost two dozen shells.
There were no casualties. The consequences of the attack are being clarified.
In Kharkiv region, the enemy massively fired at least 25 localities over the past day.
In Slobozhanske direction, the enemy launched an air strike near Pletenivka, fired mortar and artillery shells at the localities of Udy, Hoptivka, Lyptsi, Strilecha, Zelene, Ternova, Starytsia, Hatyshche, Vovchansk, Pletenivka, Vovchanski Khutory, Ohirtseve, Mala Vovcha, Varvarivka, Chuhunivka, Ambarne and Hryhorivka.
In Kupiansk direction, Russians conducted unsuccessful offensives west of Masiutivka. They carried out air strikes in the areas of Kyslivka and Kotliarivka. Krasne Pershe, Fyholivka, Novomlynsk, Zapadne, Masiutivka, Kyslivka, and Berestove were subjected to artillery and mortar attacks.
A tractor hit a mine between the villages of Chornohlazivka and Kalynove in Bohodukhiv district while conducting field work. There were no casualties.
As a result of the shelling of Vovchansk, private residential buildings were damaged, and a fire broke out in two silos of the elevator. Also, six trade pavilions of "Rynok" LLC and the library were burning. A civilian man in his 60s died, and a woman was injured and hospitalized.
At night, Russians attacked the village of Kivsharivka, Kupiansk district, with a guided aerial bomb. A hit was recorded on the territory of the local stadium. The fence was damaged and the blast wave smashed windows in nearby houses.
During the day, the SES pyrotechnics inspected 9.3 hectares of the territory and defused 84 explosive devices.
In Luhansk region, Russians tried to push through Ukrainian defenses near Novoselivske and Stelmakhivka in Svatove district. But, as in the area of Bilohorivka, they were forced to withdraw with losses.
The enemy continues to shell the villages with artillery every day. Recently, the house of a resident of Hrekivka was damaged - the owner was not injured. Novoselivske, Nevske and Bilohorivka were also shelled yesterday.
The enemy made 103 attacks over the last day, firing 425 shells.
In the Donetsk region, Russians made 24 attacks over the last day: Iskander, air strikes (type of missiles is not established), KAB-250, Grad MLRS, artillery, tank, mortar.
14 settlements were shelled, including Krasnohorivka, Avdiivka, Chasiv Yar, Toretsk, Kostyantynivka, Sloviansk.
23 residential buildings were damaged, including two apartment buildings, the building of Pokrovske mine administration, a farm, three civilian cars and a garage.
In Donetsk region, two people were killed and five wounded over the last day.
In Kherson region, the enemy fired at 22 localities over the last day: they made 61 attacks, firing 309 shells. Of these, the city of Kherson was fired upon 11 times, launching 57 shells.
A 64-year-old man sustained life-threatening injuries from shelling in Dniprovske village of Bilozerka community. An enemy shell hit his house.
In Shyroka Balka of Stanislav community, the invaders targeted a residential building. A 3-year-old child was wounded in the shelling. Glass shards hit the girl's head. She was hospitalized in Kherson, and doctors are currently providing the child with the necessary medical care.
In total, one person died and five were wounded on the last day due to Russian aggression.
As Ukrinform reported, on June 1, a 9-year-old girl, her mother and another woman were killed in Kyiv due to a nighttime missile attack by the Russian Federation, according to updated information.
Photo: Pavlo Kyrylenko/Telegram