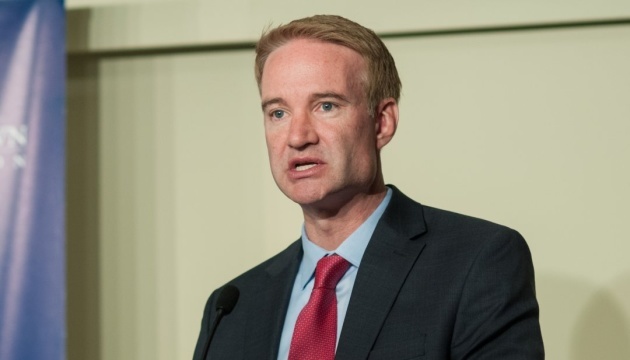 Dozens of Patriot systems already destroyed in Ukraine as per Russian media but lies don't change reality - Carpenter
According to the Russian propaganda media, dozens of American Patriot missile defense systems have already been allegedly "destroyed" in Ukraine, but this lie will not change the reality on the ground – that Ukraine is becoming stronger by the day.
This was stated by the U.S. Permanent Representative to the OSCE, Michael Carpenter, who spoke at the OSCE Permanent Council on Thursday, an Ukrinform correspondent reports.
"The Kremlin must sense the tide is shifting because it's spinning even more preposterous lies to its own population. If you were to believe Russia's state-controlled media, then you would think Russian missiles had destroyed several dozen Patriot systems in Ukraine. But lies don't change reality on the ground, even if they stop some from seeing it. And the reality is that Ukraine is getting stronger every day," Carpenter said.
The U.S. Ambassador noted that Ukraine's air defenses are proving highly successful in countering Russia's missile and drone attacks, "and we are determined to help Ukraine improve the quality of their air and missile defenses even further, including by working with our allies and partners to train Ukrainian pilots on F-16 aircraft."
He also stressed that Russia's attacks only make the West more determined "to help Ukraine win and to hold every single one of the perpetrators of these heinous acts accountable."
As Ukrinform reported earlier, on the night of May 16, Russian troops attacked Ukraine, launching 25 missiles of various types, including the Kinzhals. All enemy targets were destroyed by Ukraine's air defense forces.
On May 16, Russia's Ministry of Defense claimed "a high-precision strike by a Kinzhal hypersonic missile complex hit the Patriot missile defense system, manufactured by the United States, in Kyiv."
As a response, spokesman for Ukraine's Air Force Yuriy Ihnat said that the Patriot cannot be destroyed with a single strike, even if it is a Kinzhal.
Washington did not confirm the report that the Patriot system was damaged in Ukraine by a Russian missile strike.
The Office of the President of Ukraine stated that the efficiency of the Patriot system and the downing of the Kinzhal missiles delivered a major geopolitical blow to Russia.