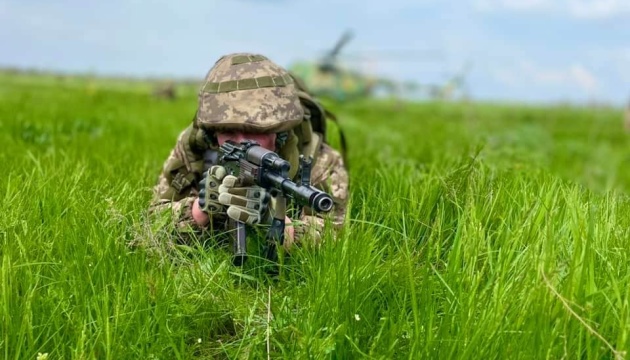 Additional checkpoints, explosions, gunfire north of Kyiv as part of exercise - Land Forces
On Thursday, 25 May, military exercises in Kyiv and the Kyiv region are coming to an end, during which military units demonstrated their ability to perform their tasks and readiness to repel the enemy if necessary.
Volodymyr Fitio, a spokesman for the Armed Forces of Ukraine, said this on the air of the United News telethon, Ukrinform reports.
"The training took place for three days, and today is the final day. The units have shown their ability to perform the tasks. The capital is prepared, the capital is protected, and the enemy has nothing to do here," he said.
The Army spokesman emphasised that Kyiv will remain the main target for the Russian aggressor and stressed that threats should not be ignored or vigilance should not be lost.
"Let the enemy know that we are ready, we are trained, and in case of something further than the state border line, he simply will not be able to pass," Fitio assured.
At the same time, he explained that training of Ukrainian defenders is ongoing, only the scale of the training changes.
"It can be at the level of brigades, and then it will not be so noticeable to our citizens, but on such a large scale with the involvement of all Kyiv defence forces and means, we see some inconveniences, but we must endure them, because only when we know how to act in certain circumstances, to respond adequately to the enemy's actions, only then will we be able to repel it at the borders of our country," the spokesman said.
He reminded that for three days there has been the movement of equipment involving personnel, explosions and shooting could be heard in the north of the Kyiv region - according to him, these were practical actions by Ukrainian servicemen, additional checkpoints were deployed and various counter-sabotage measures were taken.
Fitio added that the main purpose of such exercises, which are taking place in Kyiv and the region these days, is to confirm the level of training of subordinate units, their coherence in responding to any change in the current situation and organising interaction between all components of the defence forces.
As reported earlier, military exercises involving units of the Kyiv Defence Forces are taking place in the capital and the Kyiv region on 23-25 May.