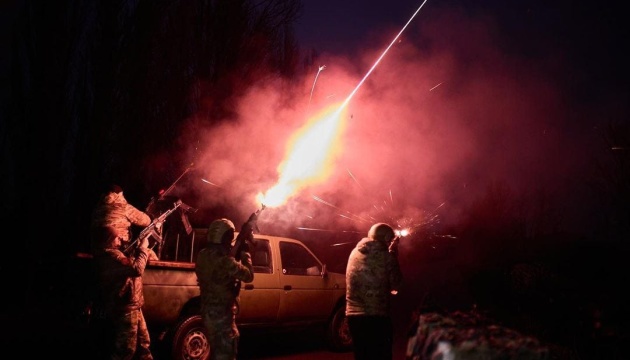 Ukraine downs all Shahed drones Russia launched at Kyiv overnight Thursday
Ukrainian air defenses destroyed all Shahed kamikaze drones the Russian forces launched toward the capital city of Kyiv in the early hours of Thursday.
This was reported by the Kyiv City Military Administration on Telegram, Ukrinform saw.
"Amid the air raid alert, which lasted more than three hours, the enemy, according to tentative reports, employed Shahed barraging munitions. This was a massive attack. All detected air targets flying toward Kyiv were destroyed by our air defenses. No strikes on Kyiv have been allowed!" the report says.
The KCMA added that the Russians pursue the tactic of attacking in waves, with certain intervals between groups of kamikaze drones. This is how the Russian forces are trying to achieve their goals, including to exhaust Ukrainian air defense capabilities, but all in vain, the KCMA emphasizes.
The number of aerial targets downed is currently being verified.
As Ukrinform reported earlier, the head of the Joint Coordination Press Center of South Defense Forces, Natalia Humeniuk, said on the air of the national telethon that the enemy was trying to wear out Ukrainian air defenses with mass missile strikes, mixing different weapons.