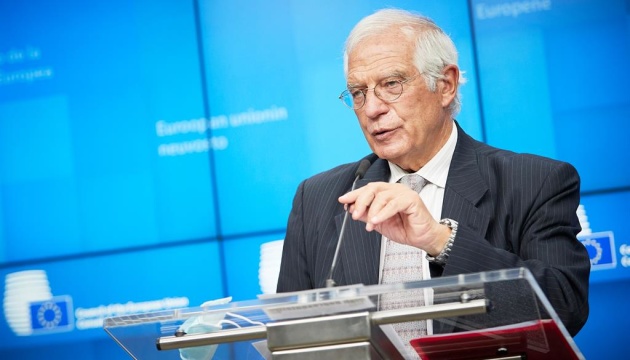 EU countries deliver 220,000 rounds, 1,300 missiles to Ukraine - Borrell
The following days, weeks, and months will be decisive for the Russian war against Ukraine, and that is why the member states are accelerating the delivery of military aid to the Ukrainian armed forces: Ukraine received 220,000 shells of various calibers and 1,300 missiles from the existing EU stocks.
EU High Representative Josep Borrell stated this today in Brussels during a press conference following the meeting of EU foreign affairs ministers on defense, reports an Ukrinform correspondent.
Borrell recalled that the EU on March 20 decided to allocate EUR 2 billion for the supply of 1 million artillery rounds for Ukraine over the next 12 months, and asked member states to provide them from their own stocks. The latest numbers are much better than what those recorded just 10 days ago, the high representative noted, adding that as of today, Ukraine has received 220,000 artillery rounds of various calibers and 1,300 missiles.
This first track will be open until May 31, and compensation of EUR 1 billion is likely to be paid timely.
He recalled that the second track of the program for ammunition production involves the collective ordering at enterprises of the European defense industry and companies in Norway - another EUR 1 billion has been allocated to this end. As of today, 24 countries have expressed interest in this program. The leading role here is played by the European Defense Agency, and two more major projects are being carried out under the auspices of France and Germany, respectively.
The third track envisages the development of the capacity of the European defense industry for a longer term in the interests of European security and defense – the European Commission has already forwarded the relevant proposals to the European Parliament and the Council of the EU.
All this, according to Borrell, will allow the EU to fulfill its obligations and supply Ukraine with 1 million rounds within 12 months.
The next days, weeks and months will be decisive for the war in Ukraine, Borrell stressed, adding that 90 percent of today's meeting time was devoted to discussing assistance for Ukraine. NATO Secretary General also attended the meeting to exchange an analysis of the military developments. All the ministers expressed their intention to continue providing assistance to Ukraine, the high EU representative emphasized.
As reported earlier, an EU foreign affairs ministerial on the issues of defense took place today in Brussels on Tuesday. On the initiative of the Swedish Presidency of the EU, during the meeting, an informal working lunch was organized with the participation of the NATO Secretary General, which was entirely devoted to cooperation between the European Union and the Alliance, as well as coordination of efforts to provide Ukraine with military assistance to repel Russian aggression.