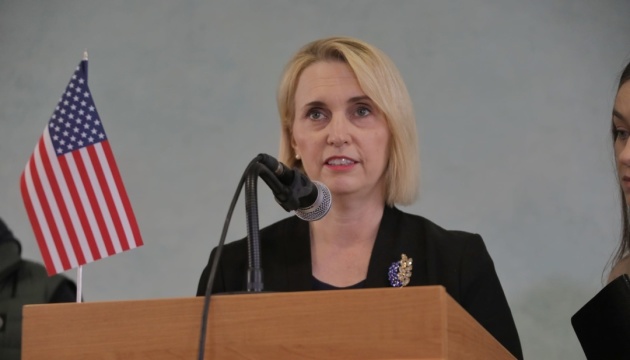 Missile attack on Kyiv: U.S. ambassador praises Ukraine's air defenses
Bridget Brink, the Ambassador of the United States of America to Ukraine, reacted to the latest Russian shelling of Kyiv overnight Tuesday, thanking the country's air defense operators for their work.
She announced this on Twitter, Ukrinform reports.
"Grateful for the powerful work of Ukrainian air defenders," diplomat tweeted – in English and Ukrainian.
As Ukrinform reported earlier, according to preliminary data, during the enemy's strike on Kyiv, missile debris fell in five city districts.
"The eighth air attack on Kyiv since early May! This time, the enemy launched a complex strike from different directions simultaneously, employng UAVs, cruise missiles and likely ballistic missiles. It was exceptional in its density – the maximum number of incoming missiles in the shortest period of time," said administration chief Serhiy Popko.
According to tentative reports information, the vast majority of enemy targets in Kyiv's airspace were detected and destroyed.
Kyiv Mayor Vitaliy Klitschko reported three casualties in the Solomyanskyi district.