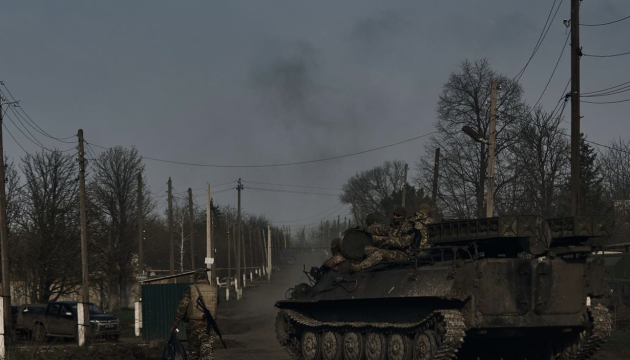 Ukrainian forces push back enemy in south of Bakhmut by at least a kilometer - British intelligence
Over the past four days, elements of Russia's 72nd Separate Motor Rifle Brigade (72 SMRB) likely withdrew in bad order from their positions on the southern flank of the Bakhmut operation, which allowed Ukrainian forces to regain at least a kilometer of territory.
The UK Defense Ministry said this in a new intelligence update on Twitter, Ukrinform reports.
It is noted that the area has some tactical significance because it was a Russian bridgehead on the western side of the Donets-Donbas Canal, which marks the front line through parts of the sector.
"72 SMRB is an element of Russia's 3rd Army Corps, a formation created in Autumn 2023 and dogged with allegations of poor morale and limited combat effectiveness," the report says.
Its deployment to such a demanding and operationally important sector highlights Russia's severe shortage of credible combat units.
As reported by Ukrinform, the Russian army injured four residents of Donetsk region on May 12.
Photo: Kostiantyn Liberov