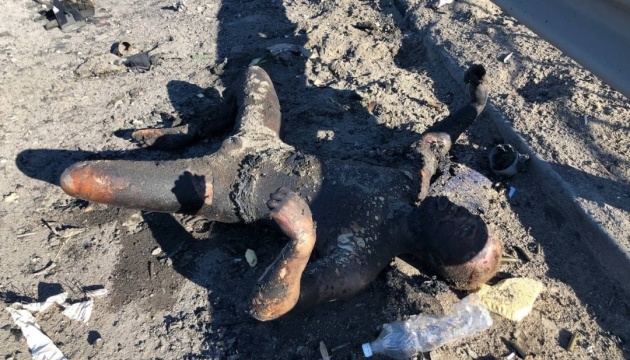 Russians lost about 100,000 personnel in and around Bakhmut
In Bakhmut direction, the enemy has lost about 100,000 personnel over the past nine months.
"But these are rough calculations. I am sure that further verification will only show an increase in this number. This is natural as the enemy uses the so-called meat assaults as the main method of waging war," Colonel Serhiy Cherevaty, spokesman for the Eastern Group of the Armed Forces of Ukraine, said during the national news telethon, Ukrinform reports with reference to ArmyInform.
In Bakhmut direction, the invaders launched 415 strikes from tube and rocket artillery over the past day.
"In this direction, 29 engagements took place, 415 strikes from tube and rocket artillery and six air raids were launched on the positions of Ukrainian defenders. As a result of engagements, more than 120 occupiers were killed, 64 were wounded, an enemy T-72 tank was damaged, two electronic warfare were destroyed, five field depots were destroyed," Cherevaty informed.
According to him, on average, the enemy fires about 25,000 shells in Lyman and Bakhmut directions per day, that is, the Russians do not experience ammo shortage despite the statements by Wagner Group leader Yevgeny Prigozhin.
"Such statements by the Wagner Group leader are most likely connected with the fact that he made too many promises about the capture of Bakhmut and invents this nonsense about ammo shortage as he has no other 'victories' apart from manpower losses. Moreover, neither the Russian military leadership nor the Russian prisoners are willing to join the ranks of this organization as they understand that this is a one-way ticket," the spokesman considers.
He noted that the enemy had lost about 100,000 personnel in Bakhmut direction over the past nine months.
As reported, Andriy Yusov, a representative of the Main Directorate of Intelligence of the Ministry of Defense of Ukraine, said that the battles for Bakhmut had become catastrophic for the invaders in terms of manpower and equipment losses.