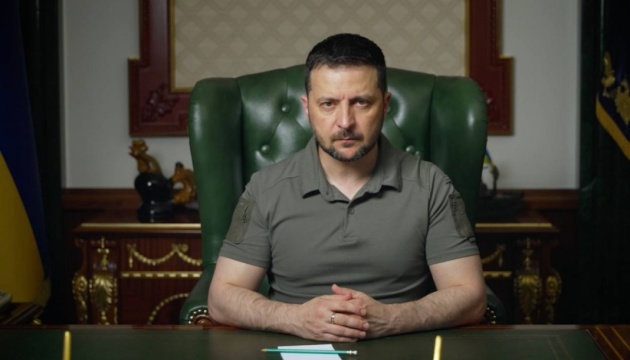 Zelensky: We will remember every state that joined us in struggle for freedom
President of Ukraine Volodymyr Zelensky emphasized that as we remember the victory over Nazism today, we are all looking forward to Ukraine's Victory Day, and we will always remember every state and every nation that stood with us in the fight for freedom.
The President of Ukraine said this in his video address on the occasion of the Day of Remembrance and Reconciliation, Ukrinform reports.
"An honest memory of the past always strengthens faith in the future. Today, paying tribute to the most important victory of the 20th century, we are all waiting and approaching a new great day – a new victory. Our victory. Victory Day of Ukraine. Of course, joint. Which we will gain together with everyone who is helping us now," the President noted.
He emphasized that Ukraine will always remember every state and every nation that joined us in the struggle for freedom.
"We will never say that the victory could have happened without any of them. It will be a joint success, but I am sure that the world will call this day the same – Victory Day of Ukraine," Zelensky said.
According to him, this will be the day when we expel the last occupier from our land, liberate all our cities and villages, when curfews throughout Ukraine are replaced by the first minute of peace when we can forget about the "Air Alert" application, and when soldiers return to their families and displaced persons return to their homes.
"It will be the day when we can safely travel through our country and discover its beauty again and again. When we meet guests of Ukraine, friends of Ukraine at our airports in Boryspil, Simferopol, and our other cities. In the free cities of free Ukraine!", the President emphasized.
He expressed his belief that Ukrainians will not lose all that they have gained, and will return everything captured by the enemy, rebuild what has been destroyed, and protect it all together.
"We do not yet know the date of our victory but we know that it will be a holiday for all of Ukraine, for all of Europe, for the entire free world. There will be a holiday for all our heroes – our defenders, all our people who fight and work for our victory, all our allies and partners who strive for our victory as much as we do," the President said.
He noted that the symbol of our victory will certainly be the blue and yellow ribbon, our Ukrainian flag, and wherever our national colours are present, it will also be a symbol of respect for our people.
As reported, President of Ukraine Volodymyr Zelensky submitted a draft law to the Verkhovna Rada to establish May 8 as the Day of Remembrance and Victory over Nazism in World War II. In addition, he signed a decree according to which Ukraine will celebrate Europe Day on May 9.
Photo: Office of the President