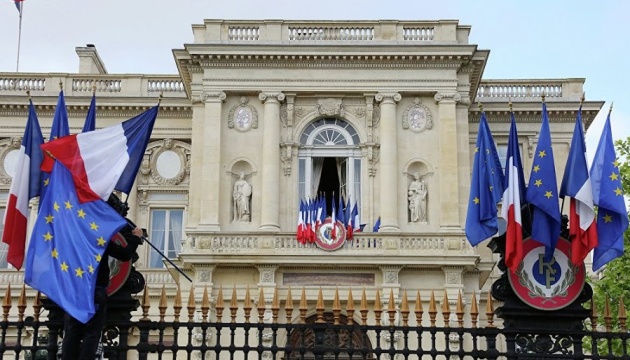 France calls on Russia to reconsider deal on placing nukes in Belarus
France condemns the statement by Russian President Vladimir Putin on the agreement between Russia and Belarus on the deployment of tactical nuclear arms on the latter's territory.
The corresponding statement was posted on the website of France's Ministry of Foreign Affairs.
"France condemns the announcement made by the Russian president of an agreement concluded between Russia and Belarus on deploying nuclear weapons there," the statement reads.
It is noted that after Russia's violation of the Treaty on the Elimination of Medium- and Short-Range Missiles (INF) "which led to its collapse," and the announcement of Russia's suspension of participation in the Treaty on the Elimination of Medium-Range and Shorter-Range Missiles (NEW START) last February, "this agreement represents an additional element of erosion of the international architecture of arms control and strategic stability in Europe."
"France reaffirms the importance it attaches to compliance with the declaration of January 3, 2022, endorsed by Vladimir Putin and all the heads of state or government of the P5, on the prevention of nuclear war and arms races. It calls on Russia to demonstrate responsibility expected of a nuclear power and to reconsider this destabilizing agreement," the statement said.
As reported, Putin said Russia would deploy tactical nuclear weapons in Belarus. Earlier, in February of this year, he said Russia was "suspending" participation in the Strategic Offensive Arms Reduction Treaty signed with the U.S. (NEW START), although the provisions of the treaty document provide no opportunity for its "suspension".
START remains the last international instrument in force that limits the spread of strategic nuclear weapons. Each of its participating parties, the United States and Russia, undertakes to reduce to a fixed number of 1,550 units the number of nuclear warheads and to 700 units – the number of deployed carriers, including intercontinental missiles, submarines, and strategic bombers.
The European Union considers the Kremlin's statements on the intention to deploy nuclear arms on the territory of Belarus as an irresponsible attempt to escalate tension, and declares its readiness to apply more economic sanctions in response to the rising threats to European security.
NATO also condemned the Kremlin's nuclear rhetoric as "dangerous and irresponsible."
The Ministry of Foreign Affairs of Ukraine noted that Russia's intention to deploy tactical nuclear weapons in Belarus was a violation of the nuclear non-proliferation treaty.
Photo: wikipedia.org