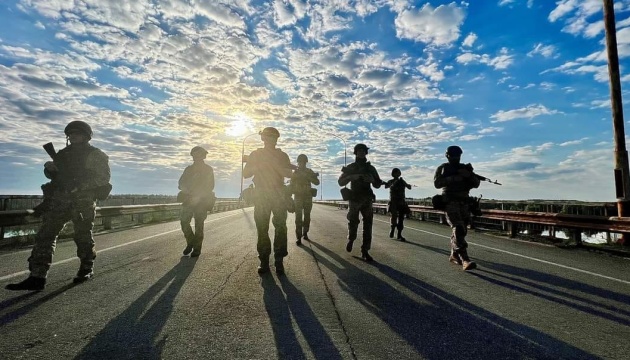 Ukrainian defenders firmly holding ground in east - Army spox
The Ukrainian troops have not allowed the enemy to penetrate their defense lines in the east of Ukraine.
That's according to the spokesman for the Ukrainian Army's Eastern Grouping, Serhiy Cherevatyi, who spoke on the air of the national telethon, Ukrinform reports.
"We did not allow the enemy to break through our defense system anywhere, we did not allow them to achieve significant gains in their strategic offensive operation, we did not allow it to develop, therefore we can agree with this statement (the point of view, expressed by pundits, that Russia's offensive of Russian troops on the town of Bakhmut has stalled - ed.)," Cherevatyi said.
He recalled Commander-in-Chief Valeriy Zaluzhnyi's report of March 24 that the difficult situation on the Bakhmut axis has been stabilized. "We control the enemy, we understand the directions of their actions, we understand their plan. We know our strengths and resources we rely on. We know that we will have enough of them to hold our front lines," added the spokesman.
Cherevatyi noted that the visit of President Volodymyr Zelensky to advanced positions in Donetsk region clearly demonstrates that Ukraine is confident about its capabilities. "There are local commanders on the ground. Everyone knows the algorithms of their actions. We have coherence and understanding of what needs to be done. This is precisely stabilization," he added.
The spokesperson of emphasized that over the last two days, the enemy tried to storm the positions of Ukrainian defenders near Bakhmut 18 times, while previously the number of assault attempts had varied from 35 to 50. "However, this requires detailed verification and analysis. "Perhaps the enemy is doing some kind of сastling, maneuvering their reserves," he added.
As Ukrinform reported earlier, President Volodymyr Zelensky of Ukraine this week visited advanced positions of the Ukrainian troops in Donetsk region, where he handed awards to Bakhmut defenders.