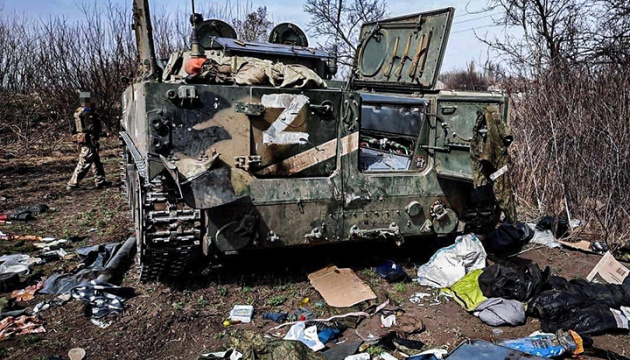 Russia's offensive on Bakhmut "largely stalled" - British intelligence
Russia's assault on the town of Bakhmut in Donbas has almost stopped.
The British Ministry of Defense reported this on Twitter with reference to intelligence data, Ukrinform saw.
As noted, this is likely primarily the result of the extreme attrition of the Russian force. Ukraine has also suffered heavy casualties during its defense, the report adds.
British intelligence believes the situation is also likely to have worsened for Russia due to tensions between the Ministry of Defense and the Wagner Group, whose troops are operating in the said sector.
"Russia has likely shifted its operational focus towards Avdiivka, south of Bakhmut, and to the Kreminna-Svatove sector in the north, areas where Russia likely, only aspires to stabilize its front line. This suggests an overall return to a more defensive operational design after inconclusive results from its attempts to conduct a general offensive since January 2023," the update says.
As Ukrinform reported earlier, in a previous summary, British intelligence reported that the Russian Federation likely saw continued indirect support for the war against Ukraine by Belarus as an important political signal.