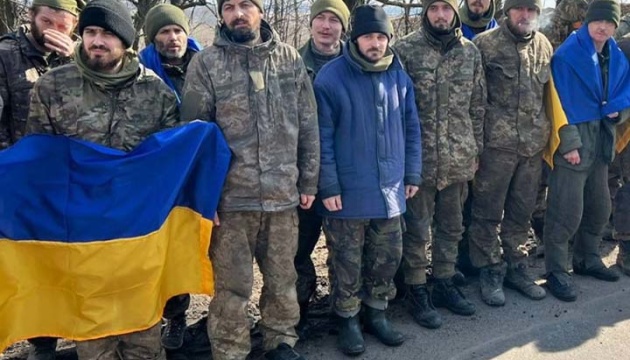 Almost 2,000 Ukrainians released from Russian captivity - intel
As a result of the exchange efforts, Ukraine returned almost 2,000 of its citizens from Russian captivity.
That's according to Andrii Yusov with the Main Intelligence Directorate of Ukraine's Defense Ministry, who spoke at the national telethon, an Ukrinform correspondent reports.
"We are not commenting on the numbers at the moment, as preparations for the next swap are underway. And of course, there's the National Information Bureau in Ukraine, the Coordinating Headquarters for the Treatment of Prisoners of War. We are well aware of the number of Ukrainians who remain in Russian captivity, and of course, the number of Russians who have been captured by our defenders or who have surrendered voluntarily. However, we are not making these figures public now, we're not commenting on them," Yusov said, answering questions about the number of Ukrainians held in Russia.
He also spoke of international participation in exchange efforts.
"Of course, we all remember the big exchange, when we returned 215 defenders and gave them [Putin's ally in Ukraine Viktor – ed.] Medvedchuk. As a matter of fact, this operation took place in several countries, including Türkiye, Saudi Arabia, and Poland. But if we talk about international institutions, then, as of now, these exchanges and negotiations are taking place, let's say, mainly bilaterally. We are ready to employ all tools, we're ready for any help, but this is Ukraine's business. And if the situation changes, everyone will only be better off," believes the intelligence official.
According to Yusov, "The Red Cross still doesn't have full access to the locations where Ukrainians are held in Russian captivity, the UN investigative team cannot yet investigate the terrorist attack in Olenivka because the occupiers simply do not allow them to get there."
"But despite all this, Ukrainians are returning home. And almost 2,000 Ukrainian men and women have already returned home since the full-scale invasion as a result of exchanges," said Yusov.
As reported earlier, Yusov said Ukraine was negotiating with the Russian side about several swaps simultaneously, and that the attempts to agree on the exchange of POWs in the "all for all" format are also underway.
Photo: Andriy Yermak, Telegram