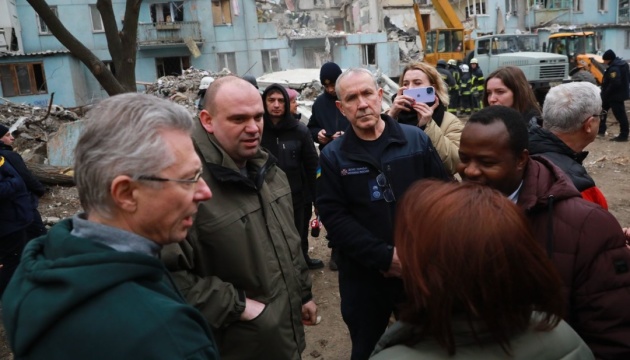 Representatives of UN, international organizations visit site of missile attack in Zaporizhzhia
Head of the Zaporizhzhia Regional Military Administration Yuriy Malashko together with representatives of UN agencies, international organizations, and Ukraine's partners, who are in Zaporizhzhia on a humanitarian mission, visited the site of the recent missile attack.
"Now the main goal is to attract comprehensive help from international partners for the victims and to eliminate the consequences of this terrorist act in the center of Zaporizhzhia," the Zaporizhzhia Regional Military Administration posted on Telegram.
In such a way, Malashko sought to attract the attention of the international community and show the scale of destruction after a Russian missile hit the residential high-rise building.
The search and rescue operation is ongoing. The day before, a team from Kyiv joined the local specialists.
As reported, the Russian army launched a missile attack on Zaporizhzhia on the night of March 2. A five-story apartment block was partially destroyed.
The bodies of five dead people were found under the rubble, eight people were injured, and 10 people are considered missing.
Photo: Zaporizhzhia Regional Military Administration, Facebook