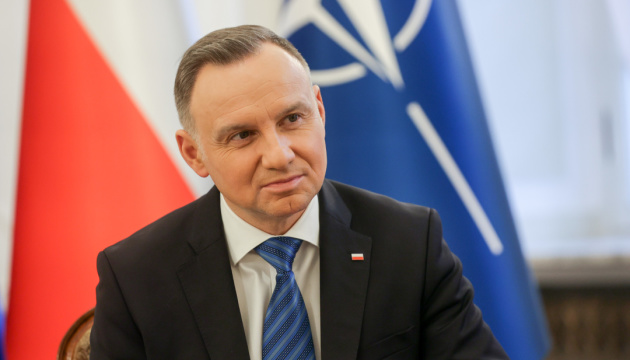 Poland to look into giving Ukraine MiG-29 fighter jets - Duda
Poland will consider transferring to Ukraine MiG-29 fighter jets, which are in service with the Polish air force. At the same time, if a broad aviation coalition is formed to provide Ukraine with aircraft, Poland will certainly join it.
That's according to President Andrzej Duda of Poland, who spoke in an interview with an Ukrinform correspondent.
As the Polish leader noted, looking at the issue of F-16s for Ukraine without emotion, it becomes clear that the training of crews would be a "long process".
"The training of Ukrainian pilots requires long months of exercises, there is no doubt about that," Duda emphasized.
Instead, if MiG-29 planes or Su planes are provided to Kyiv, Ukrainian pilots would "ready to fly them almost immediately."
"In fact, they could just fly them home right away. Therefore, without a doubt, if the MiG-29 aircraft are sent, they will be able to immediately strengthen Ukraine's defenses, which is critical. Of course, very few NATO allies have MiG aircraft in service. We still have several such planes, and we will look into this issue," the president emphasized.
According to Duda, there is a "problem" with the issue of Warsaw providing F-16 fighter jets to Kyiv, since there are simply not enough of them in Poland, taking into account the scale and overall potential of the country. He reminded that Poland is currently awaiting F-35 and FA-50 aircraft, which have been purchased from the U.S. and South Korea, respectively.
"This is a difficult moment for us, because we ourselves are awaiting the planes. Of course, if a broad aviation coalition is created among NATO countries, we will certainly join it as well. But we have to discuss with our allies the decision on the formula to be applied," Poland's president concluded.
As Ukrinform reported earlier, Ukraine seeks to obtain American F-16 or F-15 fighter jets or their European counterparts - German Tornado or Swedish Gripen - to replace Soviet-era aircraft.
Poland's Minister of National Defense, Mariusz Blaszczak, recently said that Poland has only 48 F-16s in service and is aware of its limited ability to transfer them to Ukraine, but its allies have much more potential. Blaszczak expressed his belief that the negotiations on this matter, as in the case of the provision of Patriot air defense systems and Leopard 2 tanks to Ukraine, "will also see positive decisions, but pressure must be applied."
Photo: KPRP